Billing
You can change your payment information and the billing address associated with your account here:
Billing information | Billing address
---
 To access these links from within the app, simply click on your avatar in the top right corner of the screen to open a dropdown menu and access the My Account area.
Switch to the Billing tab by clicking on it.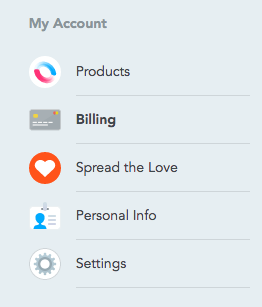 You will then have access to your current billing information and address.
---
Billing Information
Here you can change your payment type or update your credit card information.
Step 1: Click "Add a payment method"
Step 2: Select payment type (Credit Card or PayPal) 
Adjust your billing information and click on Save on the bottom of the page.
Your billing information will immediately be verified upon your submission.
Your credit card information will not be stored on our servers.
---
Billing Address
You can change your billing address and VAT ID here: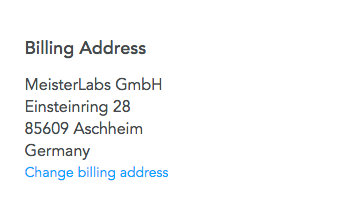 Adjust your billing address and click on Save at the bottom of the page.
You can add a VAT ID which will be automatically used during your next payment.