This article applies to individual paying users.

To ensure data security, we are refining the way project admin rights operate in MeisterTask. Take a look at the following FAQs to learn more about how this change may affect your team.
---
What is changing?
Starting on October 25th, 2023, users may only have the Project Admin role in projects owned by their team.
This means that external project members (i.e. members who are not part of the team that owns the project) will not be able to have the "Project Admin" role.
External project members who currently have the Administrator role will have their roles changed to Project Members on October 25th, 2023.
---
Why are these changes being made?
These changes are part of a data security update to ensure that teams own and manage their own data. This also prevents external parties from accessing, modifying, or sharing data without permission.
---
When will these changes take affect?
The changes will be effective as of October 25, 2023.
---
What actions should I take?
The actions you should take depend on how you have previously managed project roles and permissions:
Situation 1: I am the owner of all the projects I work in.
Good news: you won't be directly affected by this change!
Situation 2: There are external users (users not on my team) who have Admin rights in projects I own.
If you do not take action, these external users will lose their admin rights on October 25th, 2023. For these users to keep their Admin rights, you will need to
invite them to your team.
Situation 3: I have Admin rights in a project which is owned by another user or team.
You will lose Admin rights for these projects on October 25th, 2023. Please note that depending on the subscription plan of the owning user/team, the project in question may have certain
pro/business functionalities
deactivated.
The only way to keep your project administrator role is to become one team, either by joining the owner's team via invite or by inviting the owner to your team.
---
How do I know which team owns a project?
You can view the owner of any project by selecting the Info tab in the Project Settings menu. More information about project ownership be found here.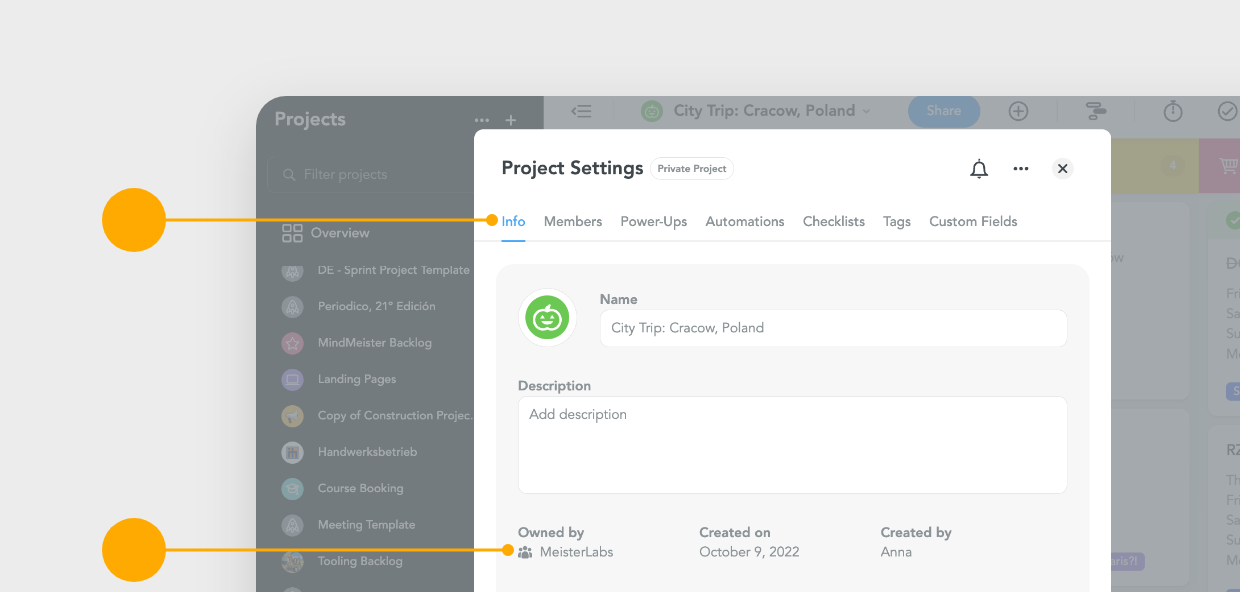 ---
How can I tell if project members are part of the owning team?
All users who have access to a project are listed under Project Settings -> Members. Members of the owning team are displayed first and marked with a 🔐 icon. External teams that do not own the project are listed separately below the owning team.
In the example below, the team "Philip Demo" owns the project, while other teams (e.g. MeisterLabs) are shown at the bottom of the list.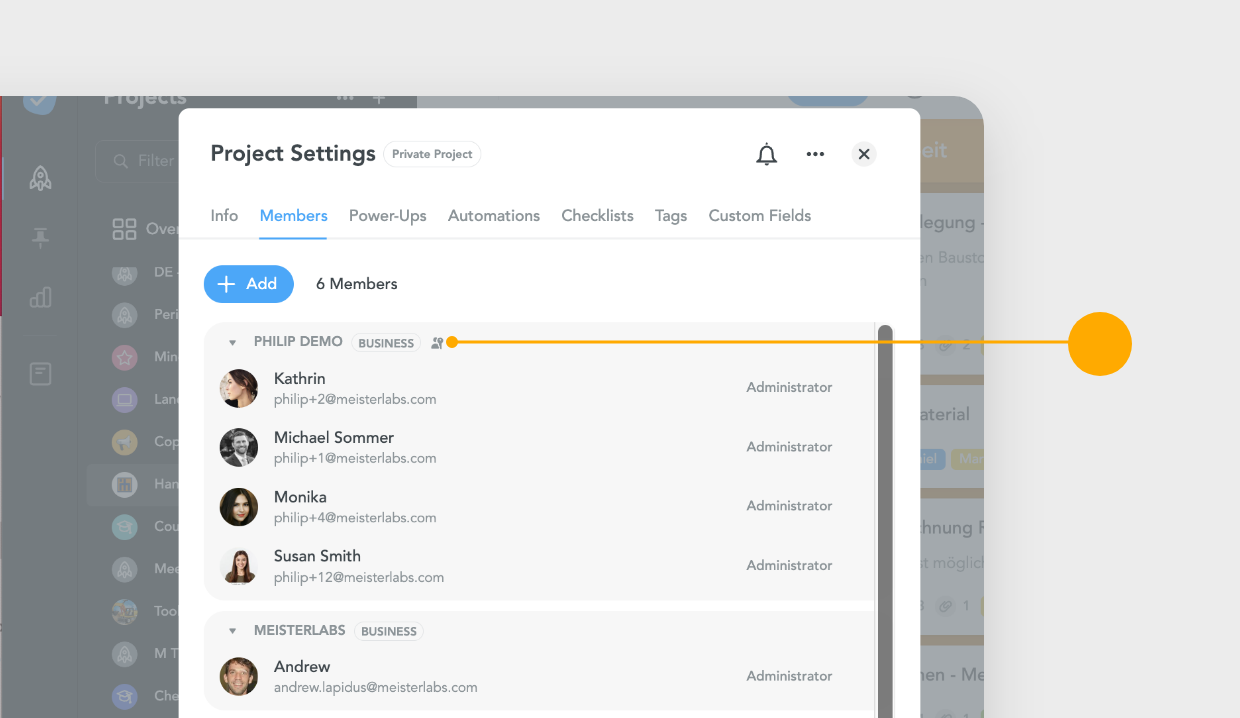 ---
Where can I find a list of external users who have access to my projects?
The Access tab (available under Preferences) displays a list of all external collaborators who have been granted access to any project owned by your team.
Please note that this feature is only available to Team Admins.
---
Contact MeisterTask Support
Please note that ticket support is only available on Pro, Business and Enterprise plans.
To contact MeisterTask Support:


Sign in to a paid version of MeisterTask.
Click the❓Help Menu in the top-right corner of MeisterTask.
Select Contact Us from the drop-down menu.



Can't contact support:
If you are a paying user and unable to access support, click
here
to reach out directly.
---