This article explains discounts on paid MeisterTask plans. It includes:
Discounts for purchasing a yearly plan instead of a monthly one.

Discounts for Academic and non-profit organizations.

Discounts for purchasing the MeisterBundle.


How to Take Advantage of Discounts with MeisterTask
Purchase a yearly plan
Register for a paid MeisterTask plan on a yearly basis to receive a significant discount compared to a monthly subscription.
Note: This discount is available in combination with all other discounts. It is applied automatically when you select the yearly plan. Other discounts are not cumulative.
Register for MeisterTask as an Academic or Non-Profit Organization
Academic institutions and non-profit organizations are eligible for a 50% discount on the cost of a MeisterTask subscription. Redeem here.
Note: You may have to prove eligibility to Meister to receive this discount. Read more.
Purchase the MeisterBundle
Purchase subscriptions to MindMeister and MeisterTask together for a 30% discount. You can opt for the bundle from our checkout page after selecting a Pro or Business plan. Redeem here.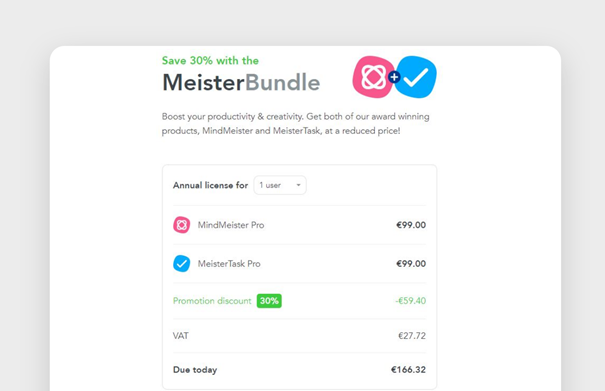 Note: When you purchase the MeisterBundle, you will receive 2 different invoices, one for Mindmeister and another for MeisterTask.