This feature is available to Business users

MeisterTask Business users can add customized data fields to tasks in any project, giving their organization an additional way to categorize, search, track and add information to their projects.
---
What are Custom Fields?
Custom fields are customizable data fields displayed in all tasks within a project.
Use custom fields to categorize important information which needs to be included in your project's tasks: Add a field for customer contact details, costs, email addresses, regulatory information, or any other category.
Custom fields are added on a project-by-project basis. This means that the custom fields you've added to one project will not apply to any others.


Example
The image below shows the custom fields added to an IT support team's project. By creating custom fields for customers' ticket number, time zone and operating system, team members can enter a value for each data point directly in the task window: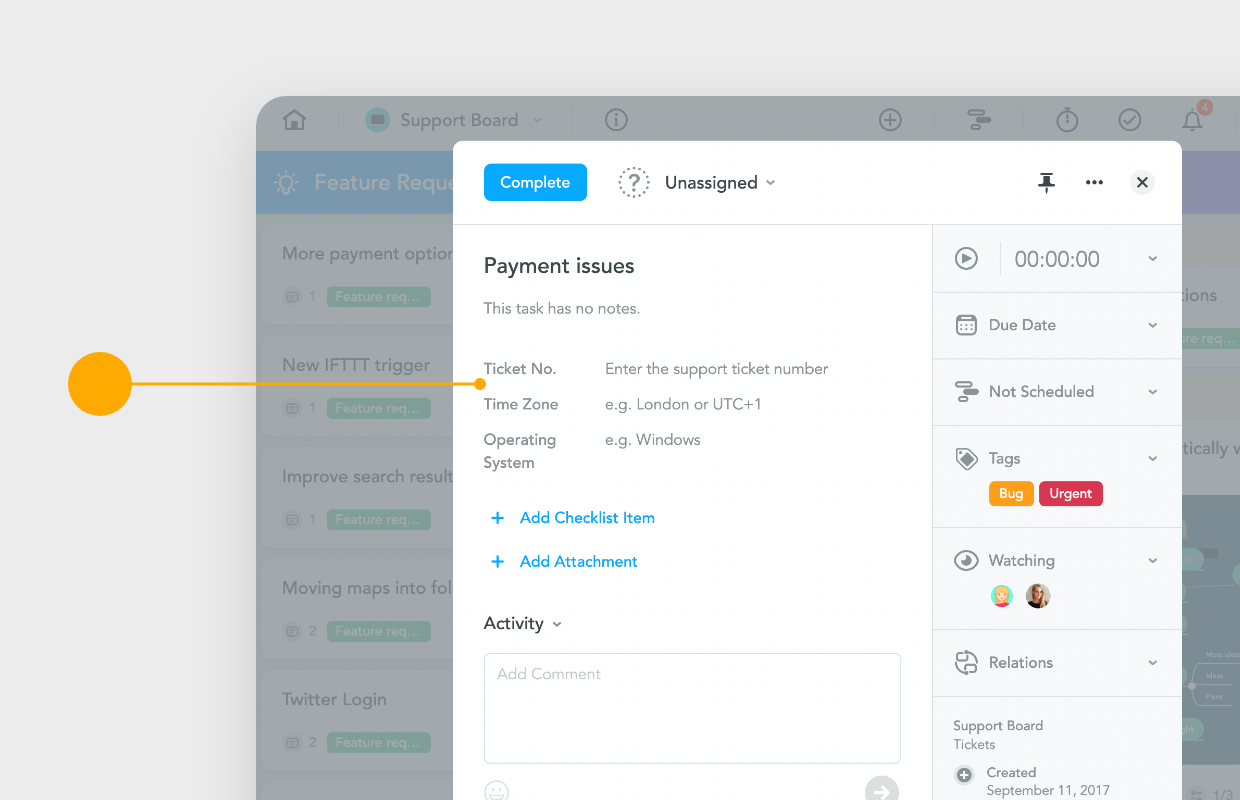 Adding these custom fields allows team members to quickly categorize information relevant to each task, ensuring that essential data remains organized, accessible and is never overlooked.
---
Add Custom Fields to your Projects
You can add custom fields to any project in the Project settings menu.
Click the project name at the top of your project board and select Project settings from the drop-down menu.
Navigate to the Custom Fields tab.
Click + Add Custom Field
Select which type of custom field you'd like to add:



Text Field
Number Field
Drop-Down Menu





Give your custom field a title and description which will appear in the Task Window. If you've selected Drop-Down Menu, add Items to your menu.




Select Done to create your custom field. The custom fields you've created will now be featured on all existing and newly created tasks in this project.
---
Edit, Delete and Rearrange your Custom Fields
You can edit, delete and change the order of your custom fields in the Custom Fields section of the Project settings window (see above).
Hover your mouse over one of your custom fields to bring up more options:
Click the Pencil icon to edit a custom field.
Click the X icon to delete a custom field.
Click and drag the three lines icon to rearrange your custom fields. This will change the order in which they appear on project tasks.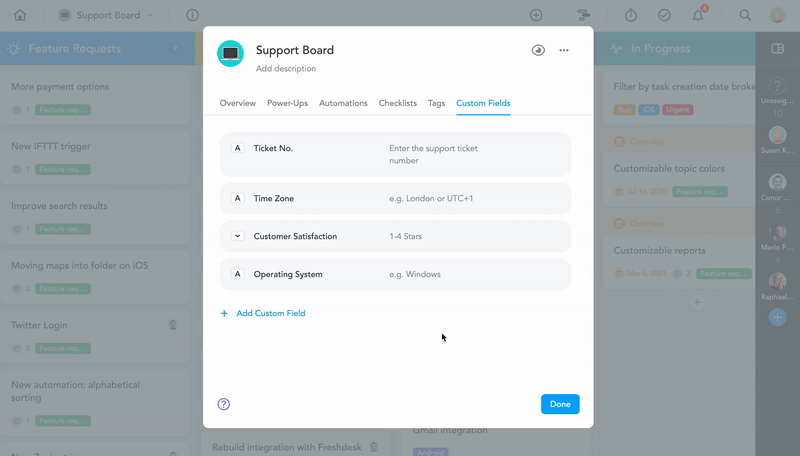 ---
Explore 3 Types of Custom Fields
In MeisterTask, there are three types of custom fields: text fields, number fields and drop-down menus.
Text Fields are normal, unrestricted custom fields. Team members can add any information in a text field, be it text, numbers, symbols, etc.
Number Fields will only accept numerical values (including dates). Team members can only add numbers, decimal points and minus (-) signs into this field.
Drop-Down Menus prompt team members to choose one of several different options presented in a drop-down menu.


Tip

Don't be afraid to get creative with your drop-down menu fields! The following image shows a rating system created using drop-down menus and star emojis. Use the colon (:) to scroll through available emojis.



---
Still Scrolling?
Ask your question in the Meister Community!