Microsoft Teams is a chat-based workspace that's part of Office 365. MeisterTask is available as a tab in Microsoft Teams, which you can add to any of your team's channels. This allows you to display and manage project boards right inside Microsoft Teams.
Note
Currently only Business and Education Accounts can use our Office 365 login. So called Microsoft Accounts (previously called Microsoft Live Accounts) can't access the Office 365 login, thus Office 365 Home subscriptions can't use it either.
Make sure that 3rd party apps are not disabled by default in Teams. You can check this by going to the Office 365 Admin Center/Portal and enabling/giving permissions to our app as is shown in the following image.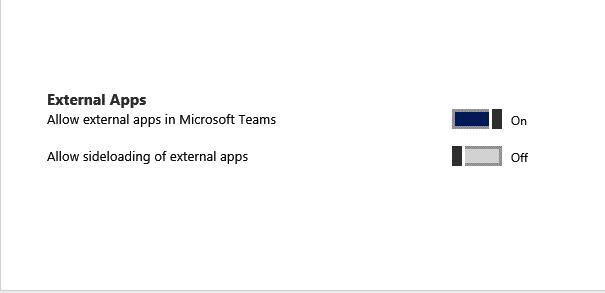 Also, make sure that in your Microsoft Azure Account the following 2 options are enabled.
From the left menu select Azure Active Directory then click on Enterprise Applications and pick the option Meister. The first option is under Properties, named Enable for users to sign-in. Make sure it is switched to Yes.


The second option is at the same location but under the Permission tab. Click on Grant admin consent.

Take a look at this video to see how it works: