With this feature, you can receive and manage notifications. This allows you to:
Receive due date and task notifications

Manage your notifications

Change your sound and desktop notification preferences

Change your notification settings on web, desktop and mobile apps.
Everyone can use this feature.
How to Use and Manage Notifications
What Notifications Are Available?
Due Date Notifications
If you set a due date for a task, that is assigned to you, MeisterTask will remind you of this upcoming due date via email one day before the task is due. If you're using the mobile app, you can also enable push notifications to remind you of upcoming due dates. Here you can select how long in advance you want to receive the reminder - you can select anything from 5 minutes before the due date to 1 week before the due date.
Task Notifications
You receive task notifications whenever one of your team members does something that concerns you or one of the tasks you are involved in. Here's a complete list of all task notifications you receive:
Someone has

assigned

a task to you

Someone has trashed or completed a task you were assigned to or were

watching

.

Someone has added a checklist item to a task you were assigned.

Someone has

commented

on a task you were assigned to or were watching.

Someone has

mentioned

you in a comment.

Someone has mentioned you in a checklist item.

Someone has reacted to a comment or activity of yours.
These task notifications are shown in chronological order on the right side of your dashboard, where they appear in real-time. In addition to that, you can enable email notifications in your notification settings.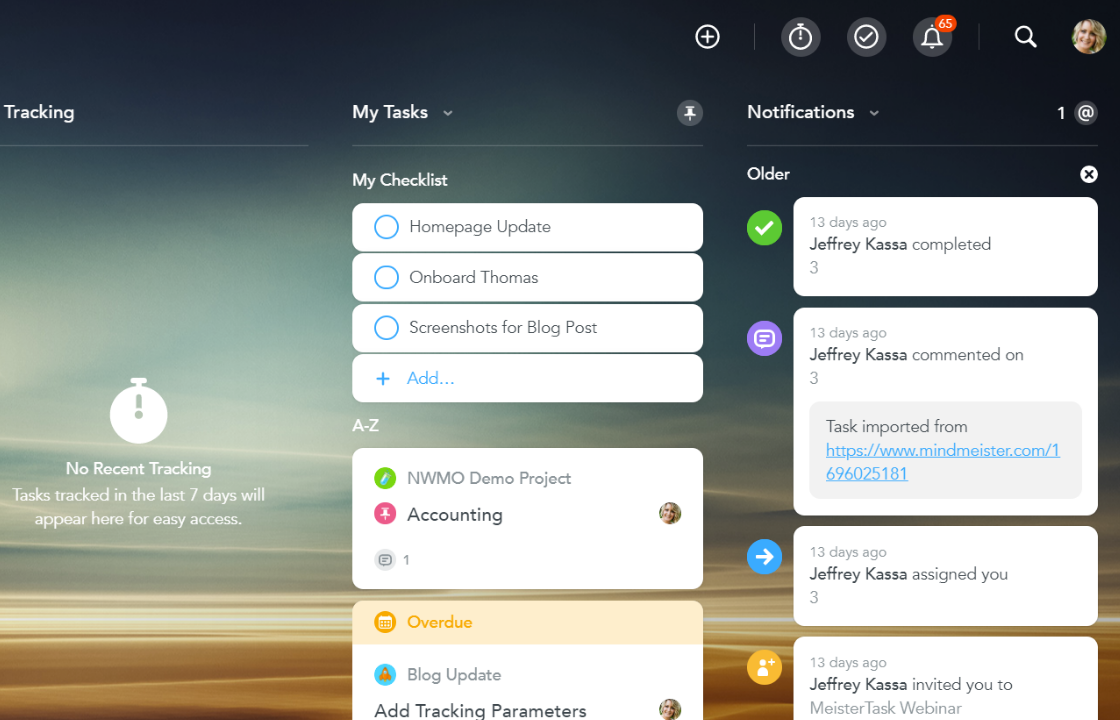 Notification Limit
We have a maximum limitation on unread notifications a single user can have of 10.000 unread notifications. All notifications past that number are automatically marked as read.
Manage Your Notifications
To open the task which the notification relates to, just click on the notification itself.


To mark a notification as read, hover over the notification icon (on the left) until it turns into an X, and then click on it.


Click the little triangle next to Notifications to switch between 'Show All' notifications (including the ones you've already marked as read) or just the unread notifications.

Check the box beside 'Hide when empty' to automatically hide the notifications section once it is empty.

Click the x to dismiss every unread notification


Change Your Sound and Desktop Notifications
Sound and Desktop notifications can be enabled from the Dashboard.
Click the Avatar Icon in the top right


Select Preferences from the drop-down menu.


Under "Notifications" you can manage your sound and desktop notifications


Change Notification Settings in the Web App and Desktop Apps
Click on your user avatar in the upper right corner of the screen.


From the drop-down menu that appears, select My Account.



In the My Account area, navigate to

MeisterTask Notifications

.


In the notification settings, check the boxes next to all the types of notifications you want to receive.


Change Notification Settings in the Mobile Apps
Open the MeisterTask mobile app.

From the dashboard, tap on your user avatar in the upper right corner of the screen to open the My Account menu.


In the My Account menu, slide up, choose 'Notifications'.


Set the time you would like to receive reminder notifications on your mobile device


Other Notifications
You can manage your pop-up and badge notifications for your mobile application under the application settings on your phone.
If you're still having trouble…