MeisterTask offers an app for the Apple Watch, which lets you add checklists with your watch, and send them to your MeisterTask account, where they are inserted in your Checklist on the Dashboard.
Download the latest version of MeisterTask's iOS app from the App Store. Instructions on how to add apps from your phone to your watch can be found here.
Once you've added it to your Apple Watch, you can start to record or scribble checklists using your Apple Watch.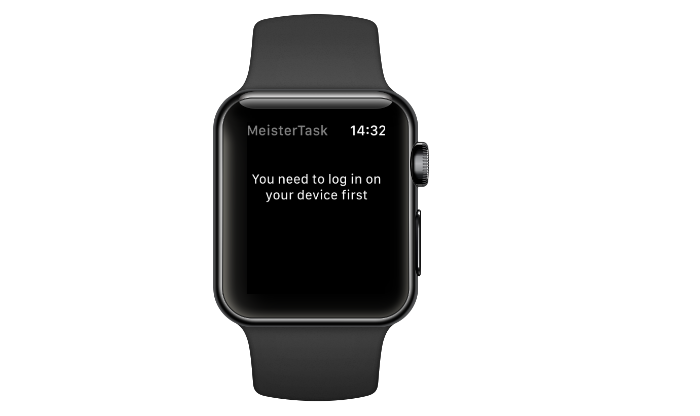 If you encounter this screen make sure you are logged in on the device that is paired with your Apple Watch.
Dashboard watch screen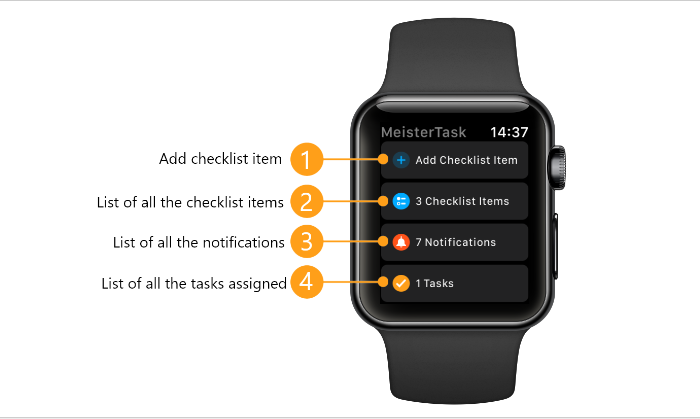 Add checklist item


Using your Apple Watch you can add a checklist item either by recording or by scribbling it. The checklist item will then be added to your checklist, which you can also see on your other devices as well.
List of checklist items
In this view, you can tap on the items in the checklist to check/uncheck them.
List of all notifications
On the list all notifications view, you can see all your notifications that you receive in MeisterTask. Taping a notification will open the Task Details View. You cannot edit anything in the Task Details View on the Apple Watch, just view.
List of all the assigned tasks
In this view, you are able to see all your assigned tasks and you can tap on the tasks to open and view them, however, as with the Notifications view you are not able to edit any of the information when accessing the task details.