With this feature, you can manage your Team Members. This allows you to:
Add Team Members

Edit, disable or remove Team Members

Add and Manage Groups
Users of Pro, Business and Enterprise plans can form teams that consist of multiple team members and one or multiple administrators.
Take a look at this short video to learn everything about team management.
The Benefits of Forming Teams
There are many benefits if you form a team: you can assign different roles and access rights to team members; you can create groups in order to quickly share projects with multiple people at once; you can get insights into your team's productivity with the reports functionality; as the administrator, you can handle the billing and management of team members; you can create team projects; and much more.
Please note: Every team member requires their own license. If you want to form a team with 10 people, this means that you have to purchase 10 licenses. You can do this while first signing up for your team's paid plan, but you can also purchase additional licenses later on if needed.
How to manage Team Members
Open the My Account area and use the sidebar on the left to navigate to My Team.
How to add Team Members
You can add team members in 2 ways:
Via email.
By sharing a secure invitation link with them.
Alternatively, you can import multiple users at once by uploading a CSV file to MeisterTask.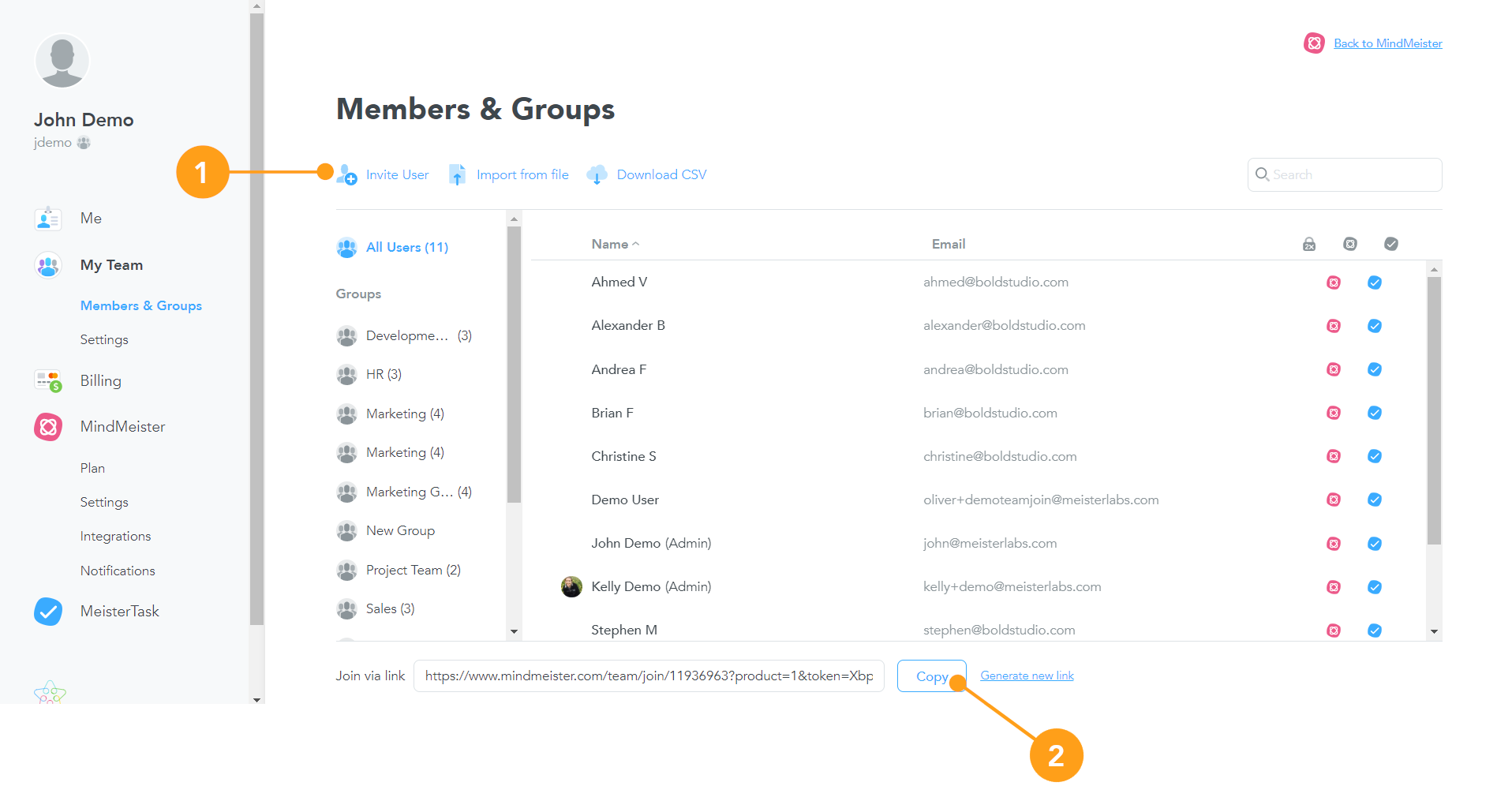 Important notice
Please be aware that users must be on a free basic account in order to be invited to a paid team. Someone who is already on a paid license, will not be able to join a new team before their license expires. If you are currently on a paid plan and wish to join another team, please contact our customer support team.
How to Edit, Disable or Remove Team Members
Hover over a team member until the little gray triangle appears on the far right side of its entry. Click on the triangle to open the member menu.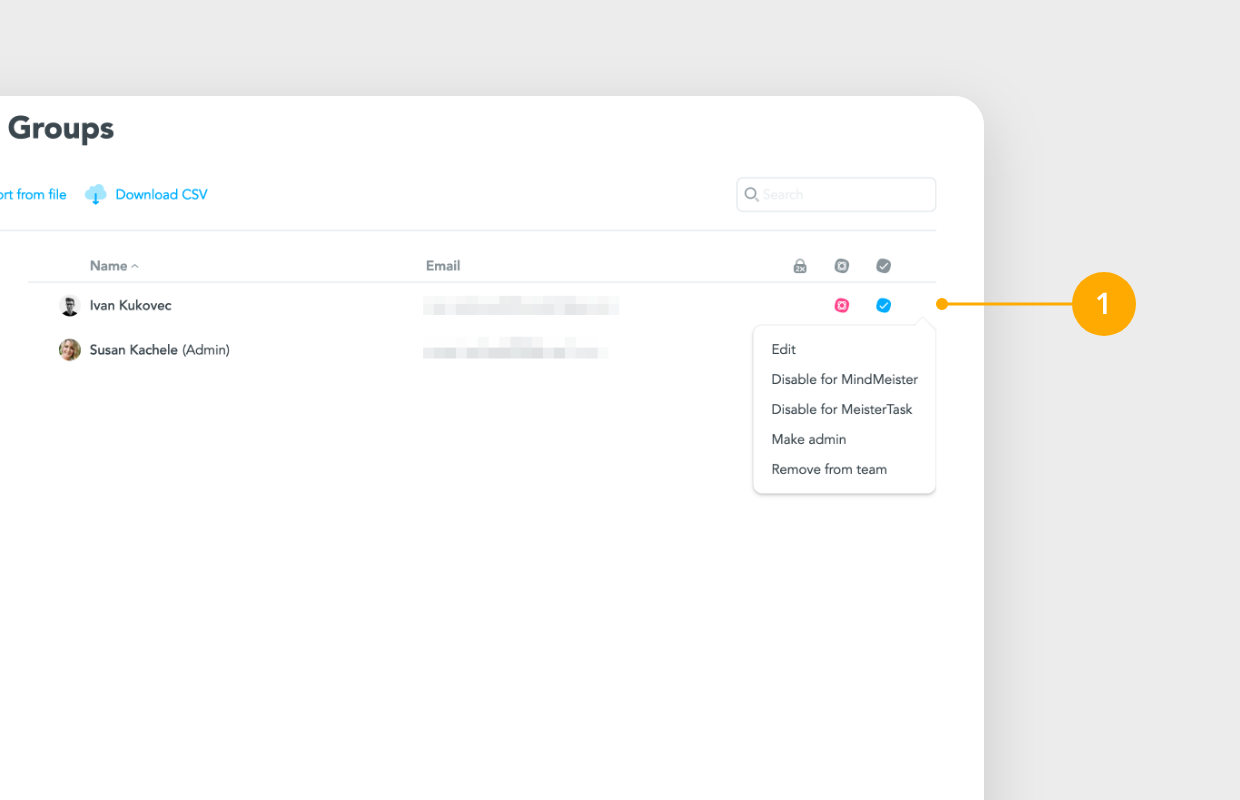 The following options are available in the menu:
Edit: Change the team member's name, email address or password.
Disable: Disable a team member (temporarily), without completely removing them from your team.
Remove from product: You can remove individual team members from MindMeister or MeisterTask.
Make admin: Assign admin status to a team member.
Remove from team: Permanently remove a team member from your team.
How to create and manage Groups:
As a Business team, you can create multiple groups and add team members to one or more of these groups. You may, for instance, create a group for each department in your organization, or a group for your management team. You can then easily share mind maps with entire groups at once, rather than adding each user's individual email address in the share dialog.
To create a new group, click on +Add Group and give your group a name, such as "Marketing" or "Team Leaders". Once the group is created, you can drag and drop users from your team onto the group to add them to it.
To rename or remove a group, hover over its name until the little triangle appears next to it, then click on it to open the context menu.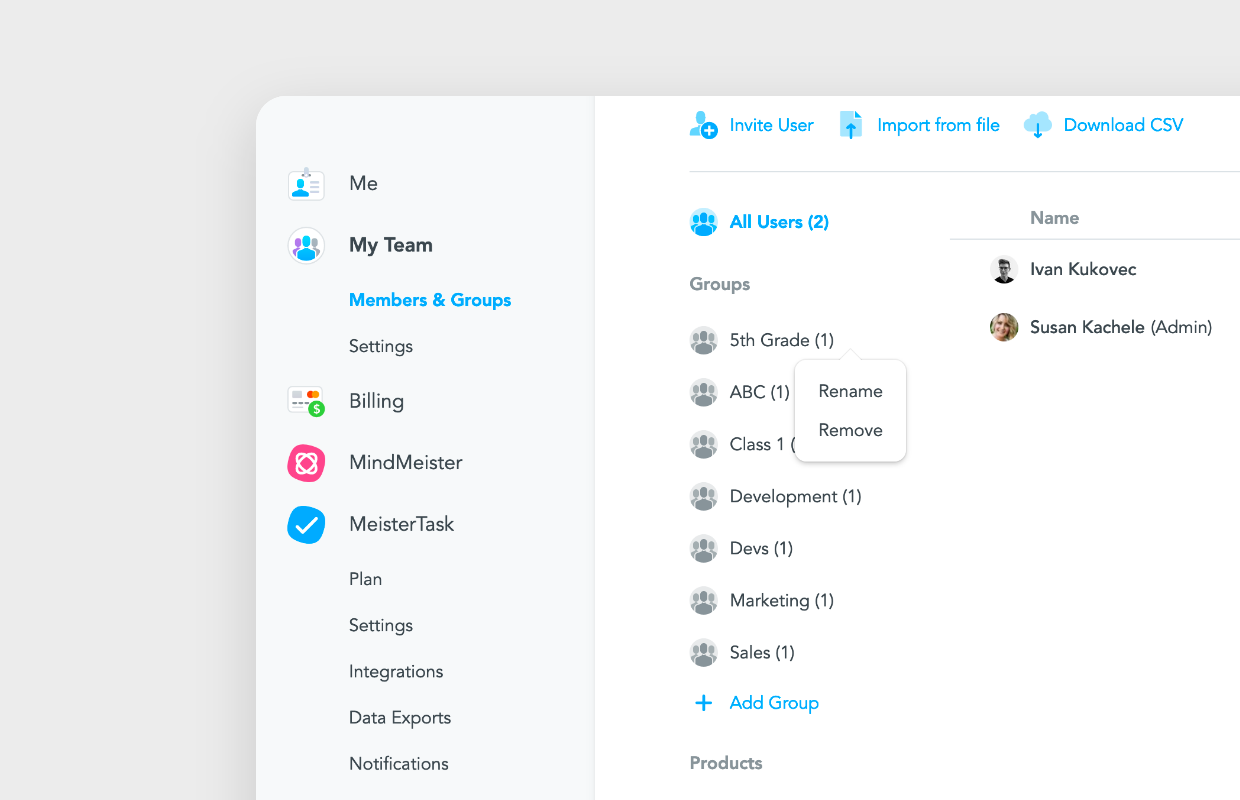 If you're still having trouble…