Who can use this?
- Team Admins and Team Members of Business teams can use these features
- Some features are restricted to Team Admins only
MeisterTask Business is a subscription plan created specifically with the needs of enterprises and large teams in mind. This plan is also ideally suited to businesses who regularly collaborate with freelancers, or want to enable clients and other stakeholders to view projects without being added as fully-fledged team members.
Take a look at this short demo video to see some of the features exclusive to the Business plan:
In this article:
Features and Pricing
User Groups
Team Projects
Roles and Permissions
Custom Fields
Restrict Features
Timeline
Features & Pricing
MeisterTask Business offers three features that are essential for the team management of large organizations and are not available on any other plan:
Roles and permissions: Assign different roles to team members and restrict their ability to modify projects and/or tasks.
User groups: Create groups of multiple users within your Business team and share/unshare projects with them at the click of a button.
Team projects: Make projects visible to your whole Business team. Team members who want to actively collaborate on these projects, rather than just view them, can join manually.
Additionally, the Business plan allows for multiple team administrators, who have full access to the license and user management of the entire team, and comes with priority email and phone support.
You can upgrade to MeisterTask Business here.
User Groups
If you create user groups within your Business team this has two big advantages:
It enables you to quickly share and unshare projects with multiple people at once.
If new employees join your team at a later stage, you don't need to manually invite them to existing projects individually. Instead, you can add them to the relevant group they belong to, and all projects shared with this group will automatically be shared with the new employee.
For example, you could create groups for the individual departments in your company, called Marketing, Sales, Development and Management, or for the team members located in regional offices, called Vienna team, San Francisco team, or for all people involved with a certain product, and so on.
Please note: User groups are not the same as project groups. Project groups are essentially folders that are used to structure the projects in your project list on the dashboard. You may, for instance, create a project group for all your personal projects and another one for all your business-related projects. User groups, on the other hand, are groups of multiple team members (e.g. all members of your marketing department).
Create and Manage User Groups
To create and manage user groups, you have to be an administrator of your MeisterTask Business team.
To get started, click on your avatar in the upper right corner of MeisterTask's interface and select My Account from the drop-down menu.
On the My Account page, select My Team from the left menu and select the Members & Groups. In the Members & Groups area, you can manage your team's licenses and its members (users), as well as create and manage user groups.
Tip
On this page, you can also disable or re-enable team members.
Click the + Add Group button and type in a name for your new group. To fill your new group with members, simply drag them from the member's list and drop them onto the group's name.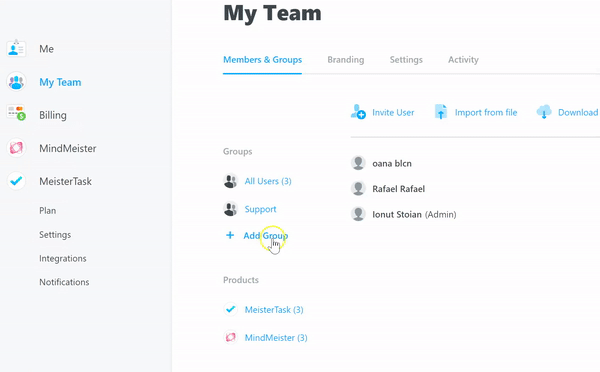 Share Projects with User Groups
Click on + New Project in the top left corner of your dashboard. In the dialog that opens, you can name your new project, as well as send out invitations to all users you'd like to collaborate with. You can invite people individually by typing in their email addresses or invite whole groups by typing in the name of the user group.
If new employees are added to the group at a later point in time, this project will automatically be shared with them, too.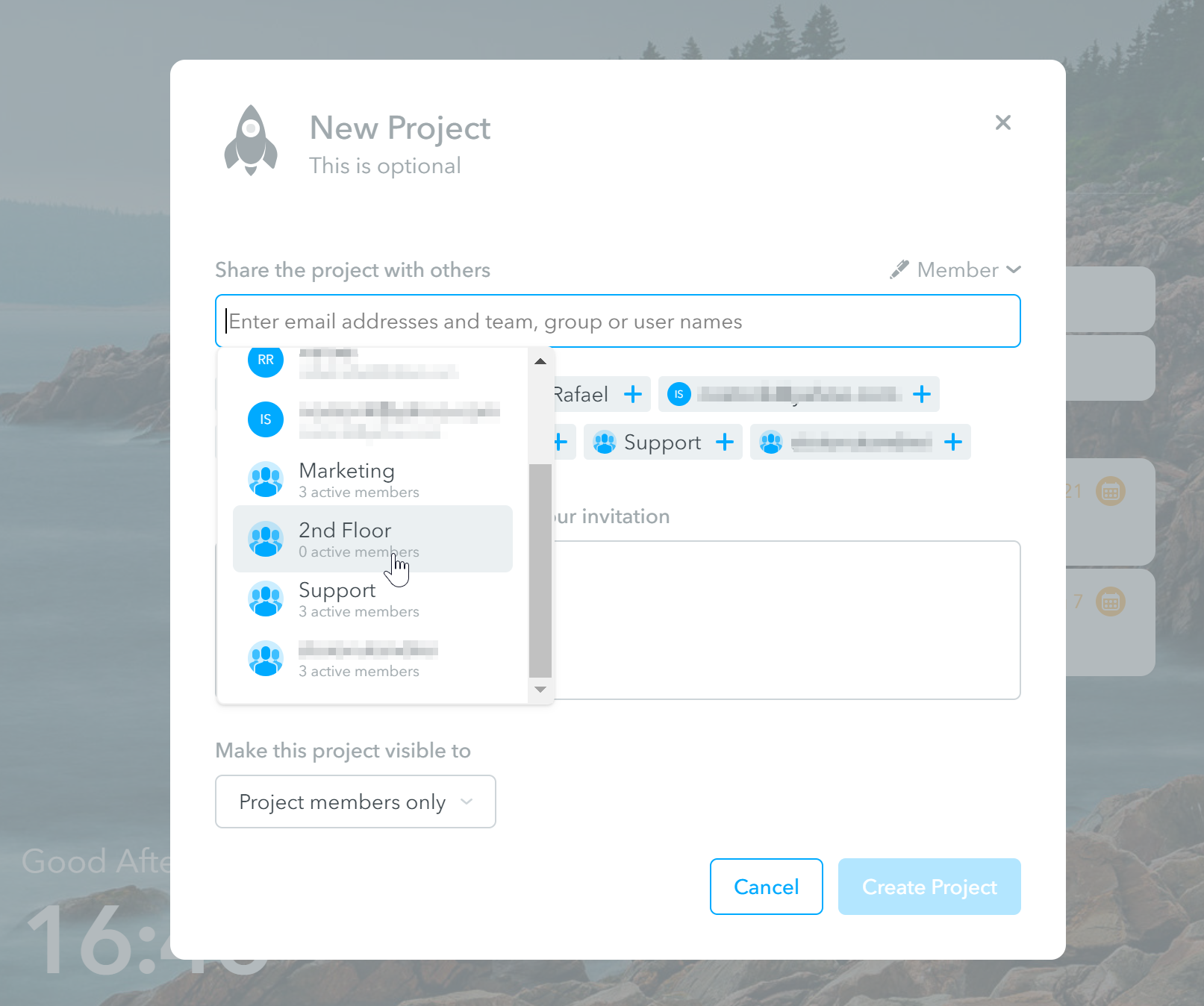 Team Projects
When you create a new project, you can choose between making the project visible only to project members (i.e. users you actively invite) or to your entire Business team. This option is available in the dialog that opens when you create a new project from your dashboard.
Note
Because teams may create a large number of team projects, we have made it so team projects don't automatically appear in everybody's project list. To view team projects, users have to click on Projects and select Team Projects from the menu.
By default, team members can open and view all team projects, but to actively collaborate on a project, they have to join it by clicking on the respective option in the top bar.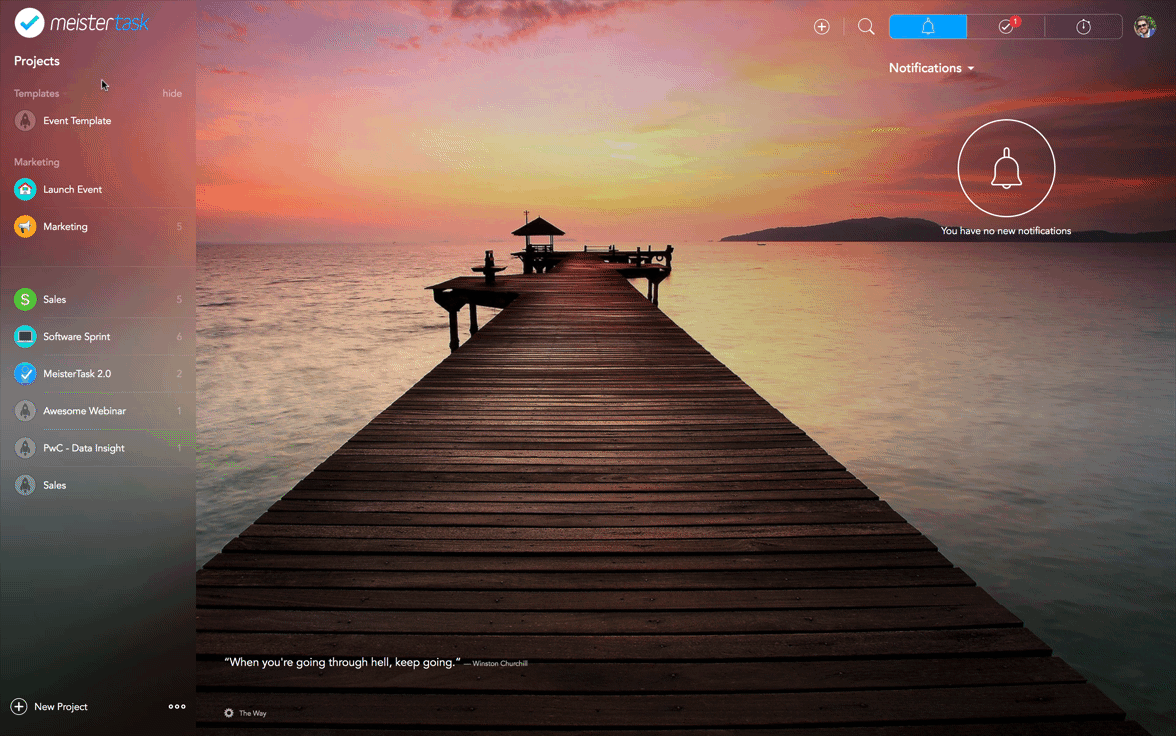 Roles and Permissions
Roles and permissions enable you to assign different roles to the members of a project, with each role offering a different set of rights. The roles currently available in MeisterTask Business include:
Administrator: Has full control over the project. Can change the way sections are set up, can add integrations and section actions, and can modify all other project properties.
Member: Can manage tasks in the project (create, modify, assign, complete, archive, trash etc.) but cannot change any project properties. Note that Members can see and modify all tasks, not only the ones assigned to them.
Guest: Project Guests can only access and edit tasks which have been assigned to them or to which they have been added as watchers.
Read-only: Can open the project and view all tasks individually, but can not edit the project or its contents in any way.
Commenter: Can view and comment on tasks, but otherwise not modify them in any way. However, when a Commenter comments on a task, they are automatically added as a Watcher and are subsequently notified of changes made to the task.
Tip: You can invite users that are not part of your Business Team to projects and assign them a Read-only or Commenter role. This is a great way to keep clients and other external stakeholders in the loop about project progress and involve them in task-related discussions, without the risk of them modifying tasks without permission.
Note that roles are not global properties, but are assigned on a project basis. For example, while the marketing manager in your company may be an Administrator of the marketing project, they may be assigned a 'View Only' role in the projects run by the sales department.
Enable and Manage Roles and Permissions
The roles and permissions feature is not enabled for all projects by default. To enable roles and permissions for a project, open the project properties and navigate to the Power-ups tab. Scroll through the list until you spot the roles and permissions entry, then click Add.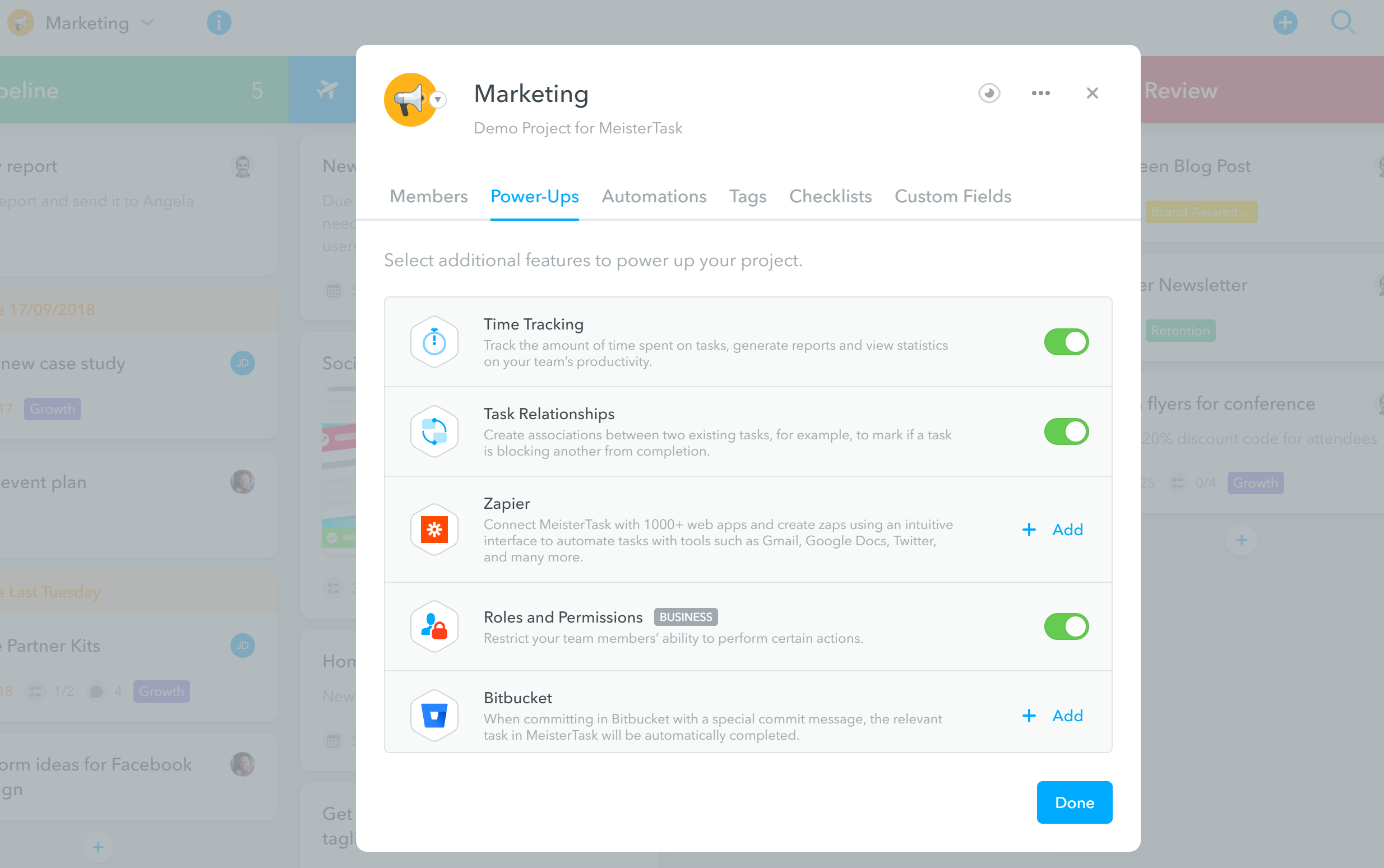 Once you've enabled the feature, go to the Members tab in the project settings. Next to the project members' email addresses, you can now see their assigned roles. By default, all users who were members of the project before the roles and permissions feature was enabled are made Administrator. To change a role, simply click on it and select a different role from the drop-down menu.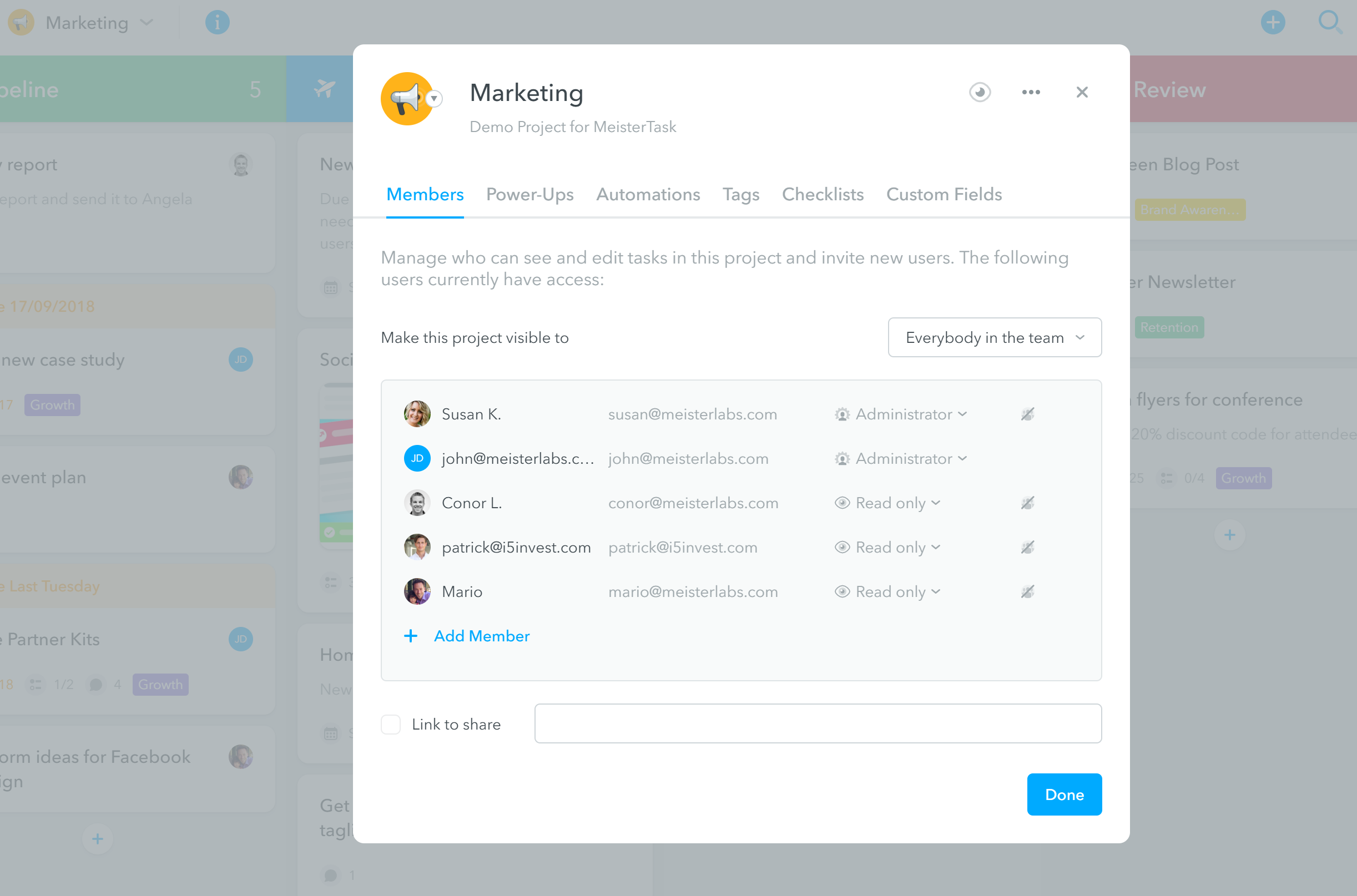 Custom Fields
Users of MeisterTask's Business plan are able to define custom fields in their projects which are automatically displayed in all tasks within those projects. Adding custom fields is a great way to ensure that team members remember to include important information in tasks, such as ID numbers, links, and so on.
Check this support article for more detailed information on how to set custom fields.
Restrict Features
Admins of MeisterTasks Business teams can also restrict the use of certain features to their team:
Integrations
Statistics and Reports
Attachments from External Services
To disable/enable these options the Team Admin has to access the My Account area from the top right dropdown menu within the MeisterTask Dashboard:
Select MeisterTask from the left side menu.
Click Settings.
Select the Security tab.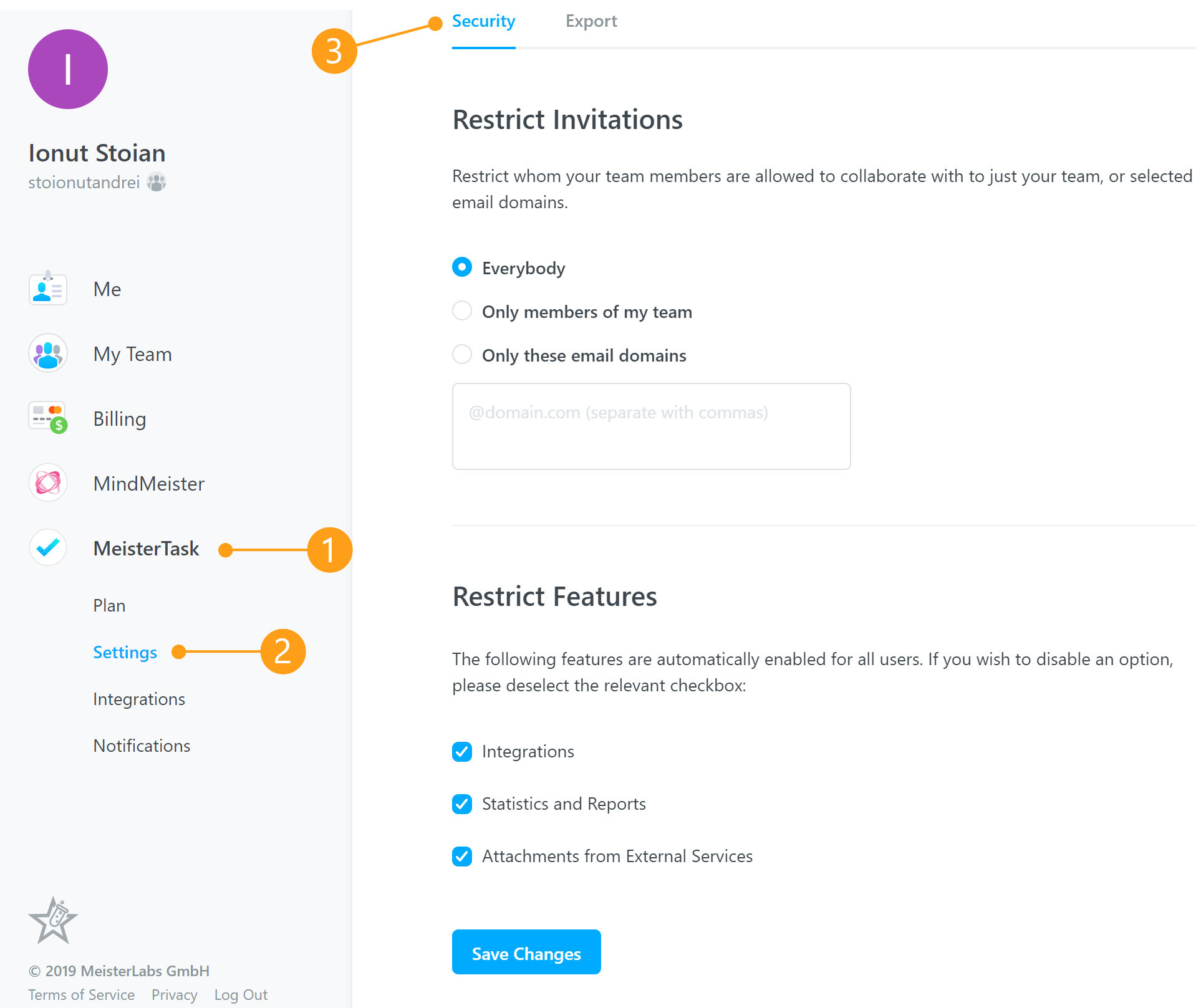 Display Names
Team Admins can display the full names of users instead of their first names.


Timeline
Timeline is similar in concept to a Gantt chart, and allows you to see all tasks in a project displayed in a calendar view. The Timeline shows the following information about tasks:
the start and end date
the assignee
the location in the workflow

The color of a task on the Timeline corresponds to the section the task is in. For example, if your In Progress section is red, all tasks In Progress will appear in red on your Timeline.

Check this support article for more detailed information on how to use the timeline.


MeisterTask Enterprise
MeisterTask Enterprise offers everything that's included in the Business plan, plus personal onboarding assistance to ensure a smooth transition for your entire company. A dedicated account manager ensures all your custom needs are met, and our internal security department provides a custom security review. Please contact us for a tailored pricing offer.