MeisterTask helps you keep all task-related conversations in one central place, so you don't have to switch back and forth between your email inbox, your task manager, and other communication channels.
The bottom part of the task dialog offers space where collaborators can discuss the task, give feedback, Like other people's comments and activities, and mention team members to include them in the conversation.
When you leave a comment on a task, the task assignee and all task watchers receive a notification. If you mention a team member in a comment, that member receives a notification, too.

You can use this feature with any MeisterTask license level.
Add Comments
Simply click on a task to open the task detail dialog and write your comment in the designated field under Activity.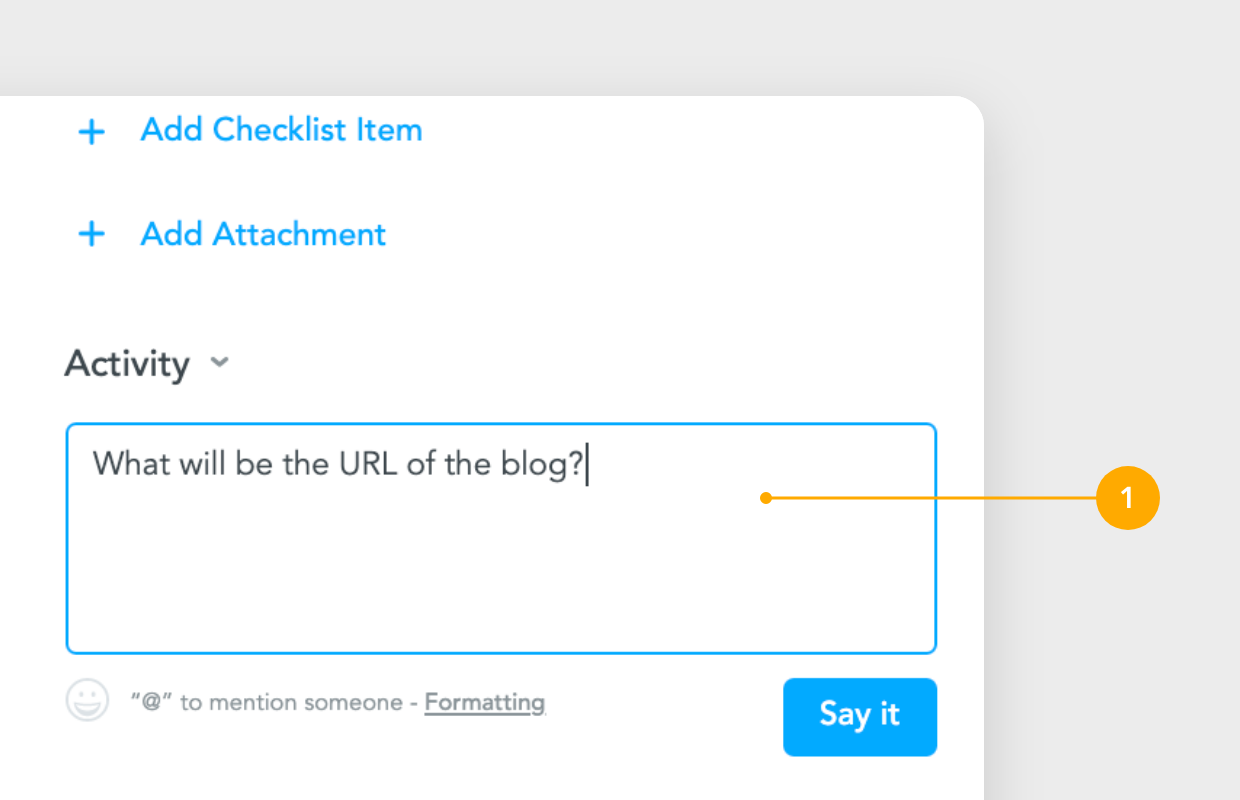 To mention another team member, put an @ sign before their name.
In the comments section, you can also mention all project members or the current users watching the respective task:
@All - all project members are mentioned and receive a notification.
@Here - all watchers from the respective task are mentioned and receive a notification.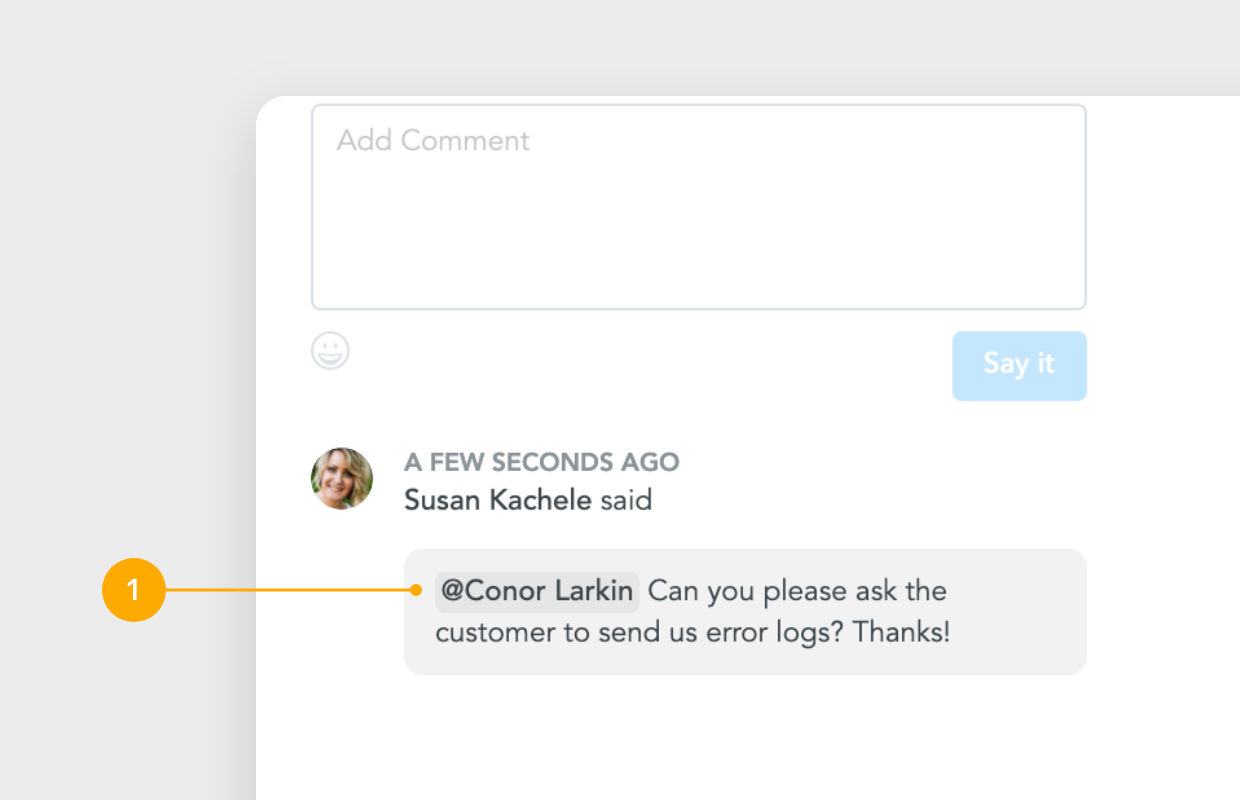 When you're finished with your comment, click Say it or press Enter.
To delete a comment, hover over it until the little triangle button appears, click on it and select Delete from the menu.
In the same menu, you can also select Edit to edit your comment in case you made a mistake.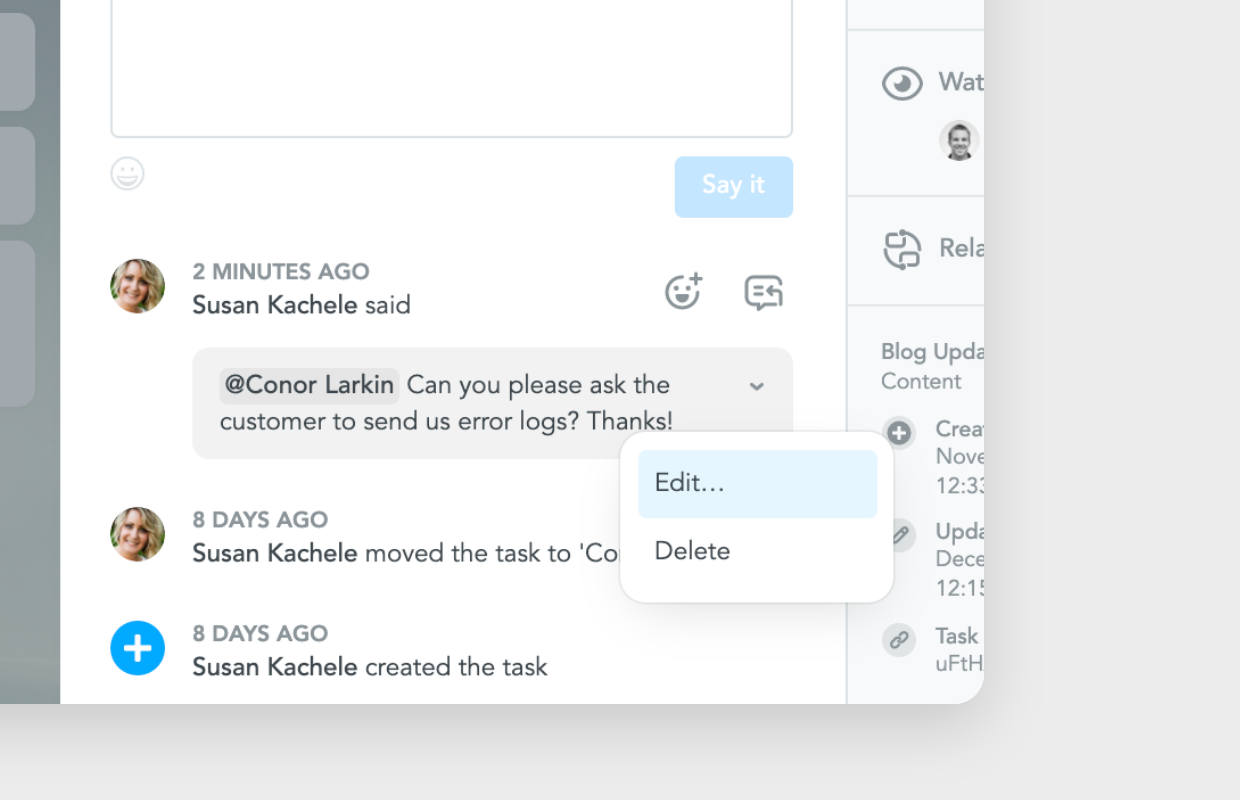 Tips:

- Press Shift + Enter to create a line break
- You can use markdown in the comment field. To see a full list of all formatting options, click into the comment field until the Formatting link appears.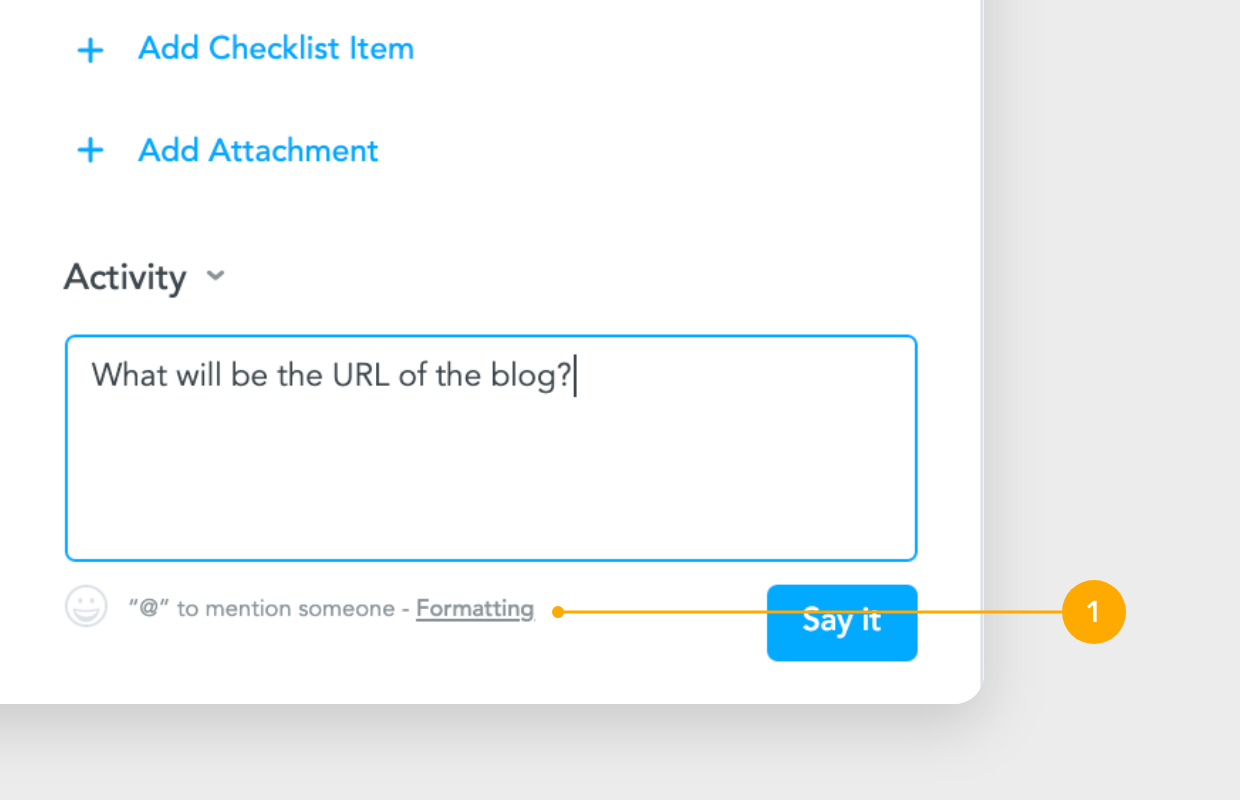 - You can enter emojis by clicking on the emoji button below the comment field
- You can Like other people's comments by clicking on the thumbs-up button next to them
- Click on the little triangle next to Activity to choose between showing the entire activity stream or only the conversations.
Reply to comments:
You are able to reply to specific comments and the comment that you're replying to will be quoted in your reply. You can reply to comments on all MeisterTask plans.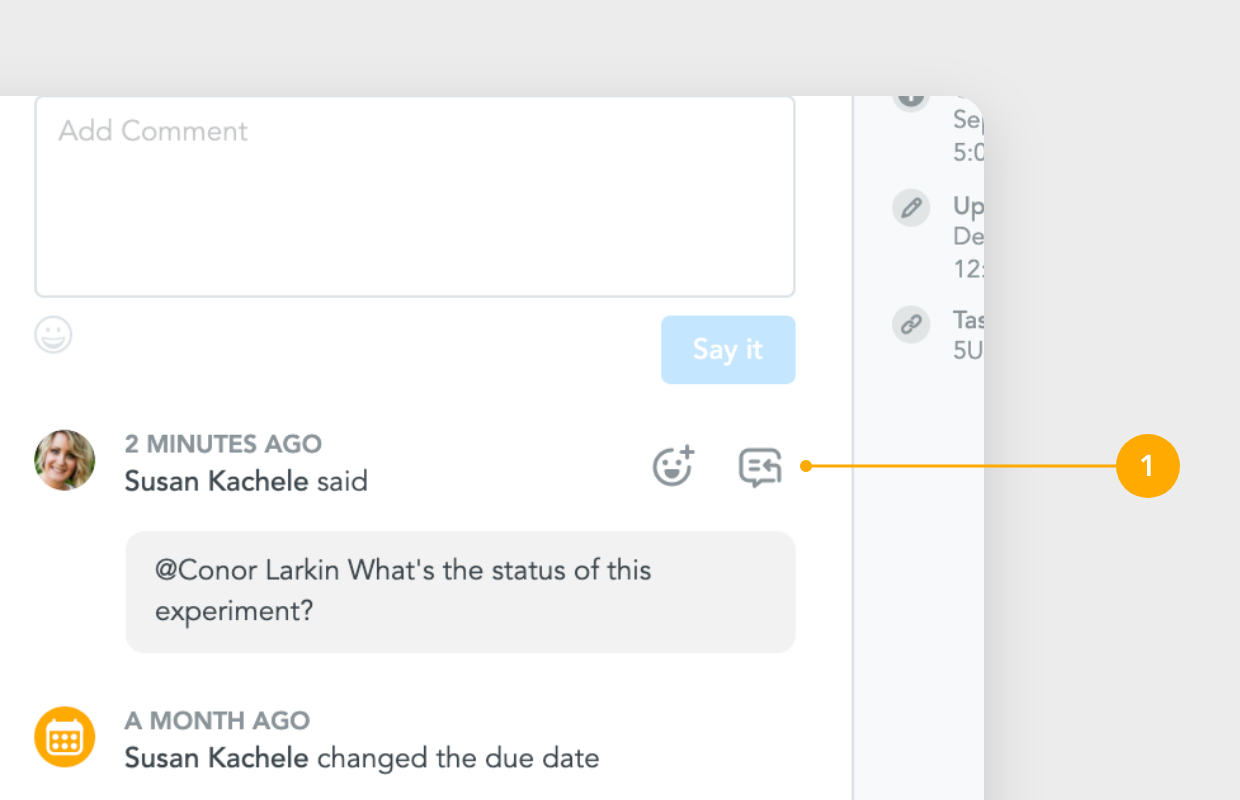 To use this feature, hover your cursor above the comment you'd like to reply to and then click on the gray speech bubble.
Mention users in checklists
You can mention users in checklists in order to "assign" checklist tasks to them. To mention a user in a checklist, create a new checklist item (see above) or edit an existing one. Then, Enter @, followed by the user you wish to mention, then press ENTER.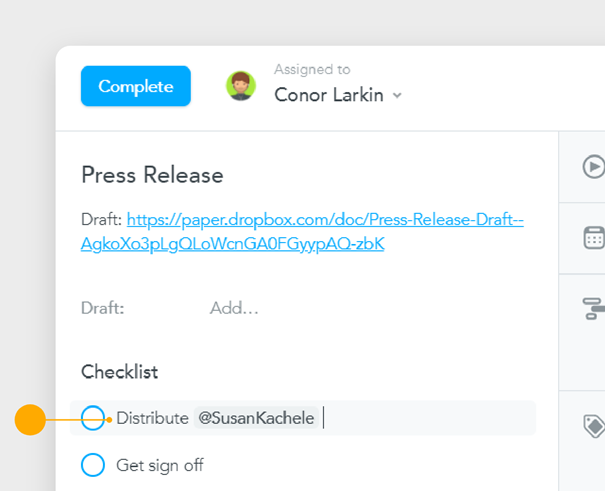 Link to attachments in checklists
You can link to a task's attachments in checklist items in order to show them in context. To link to an attachment in a checklist, create a new checklist item (see above) or edit an existing one. Then, Enter /, followed by the name of the attachment you wish to link to, then press ENTER.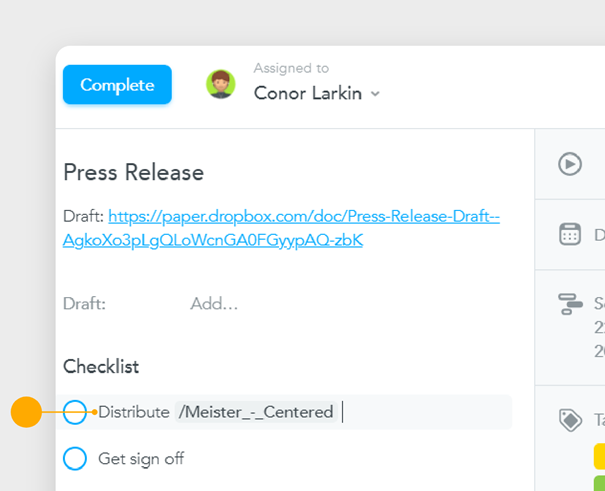 Mention non-project members in projects
You can invite colleagues to your project by mentioning them in comments. Just type in the @-sign followed by their name. You'll then be prompted to invite them to your project.


Keep in mind that this feature will only work if your team owns the project and if you're trying to invite a member of your team.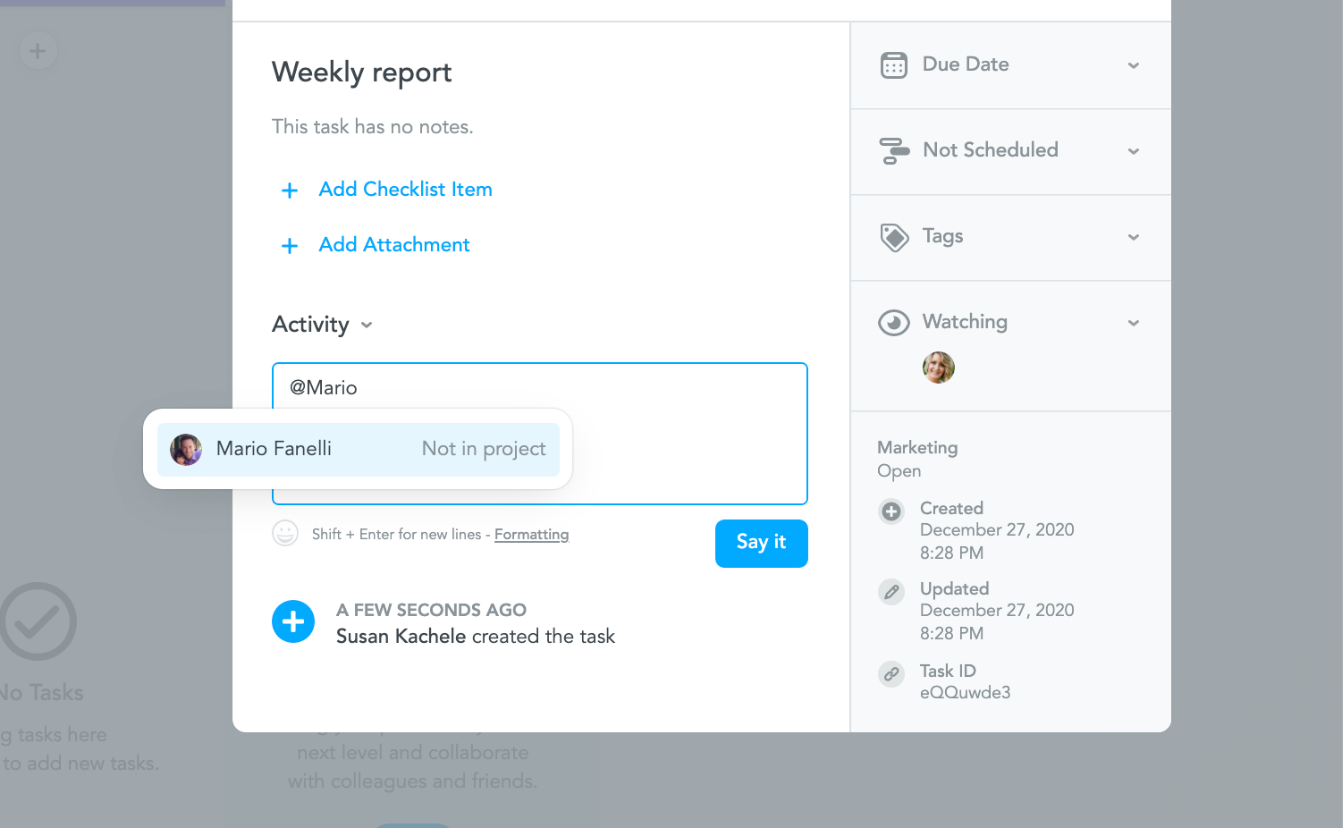 Reactions:
Choose a reaction from the five reaction icons. This lets people know how you feel about their comment.
Reactions are available on all MeisterTask plans. Simply click on the grey smiley face icon above the comment you wish to react to.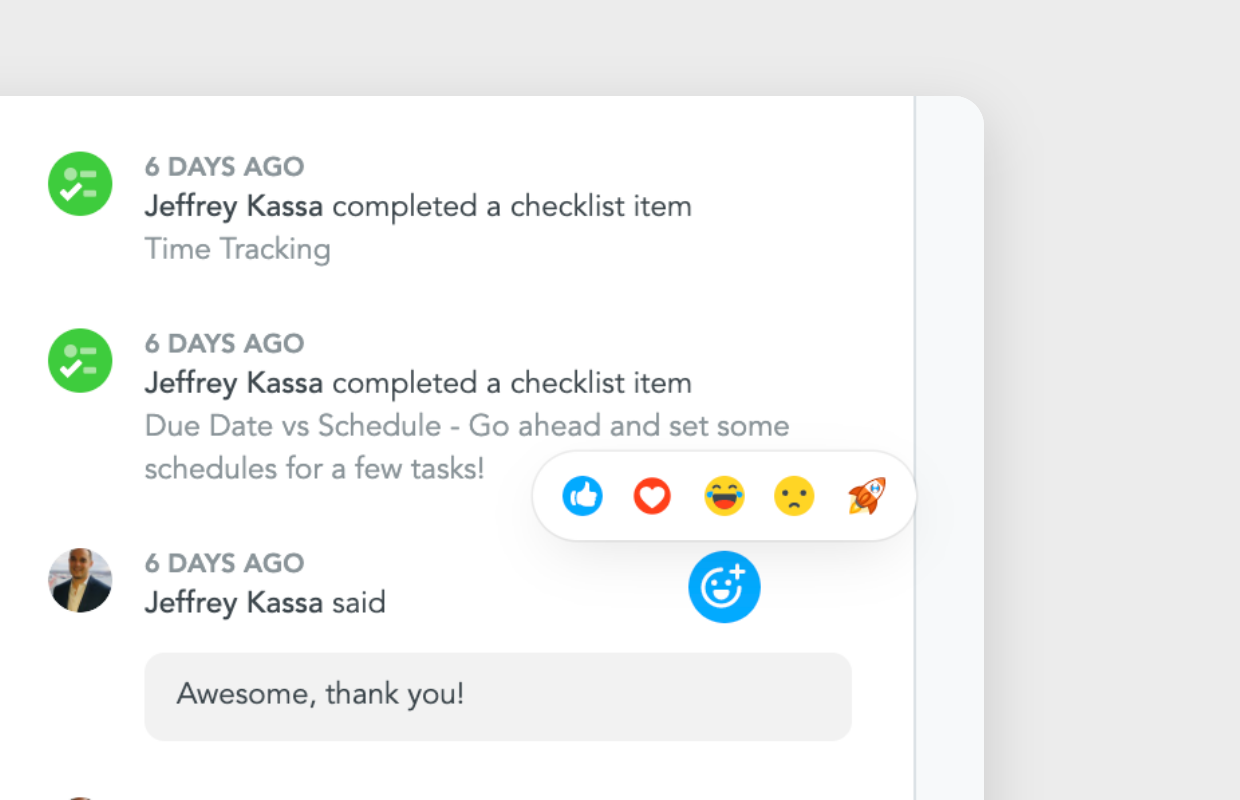 Link Attachments in Comments
To make tasks with longer comment threads and multiple attachments easier to navigate in, you can create links to attachments in comments using the forward slash (/) key. This creates a shortcut to the attachment in question without the need to re-upload.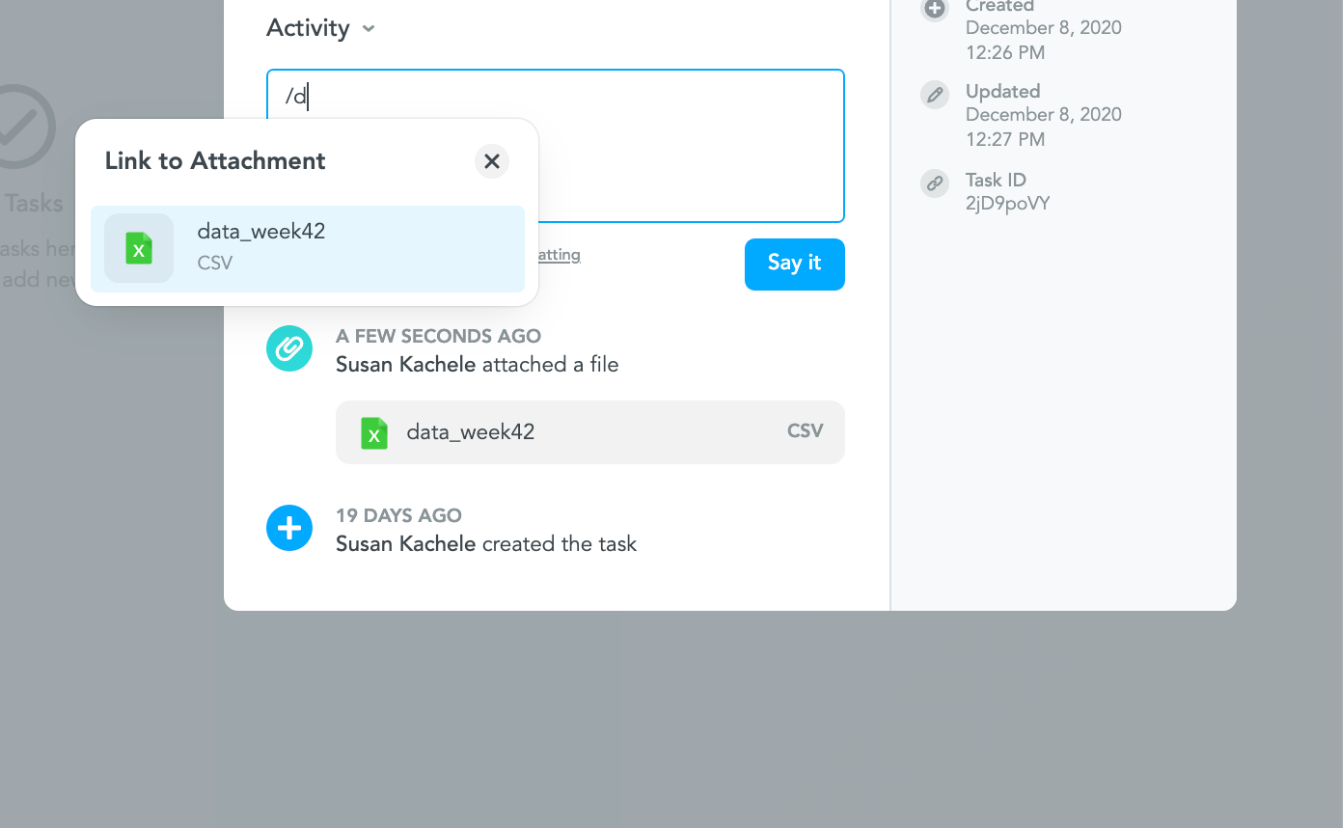 If you're still having trouble…