This feature is available to Pro and Business users

Connect MeisterTask to your Google account to automatically sync tasks and deadlines with your Google Calendar.
---
What is Google Calendar Integration?
Google Calendar Integration allows you to sync your MeisterTask tasks and deadlines with Google Calendar. Synced Tasks will then appear on your Calendar as events on their specified deadlines. Changes made in MeisterTask will be immediately synced with your Calendar.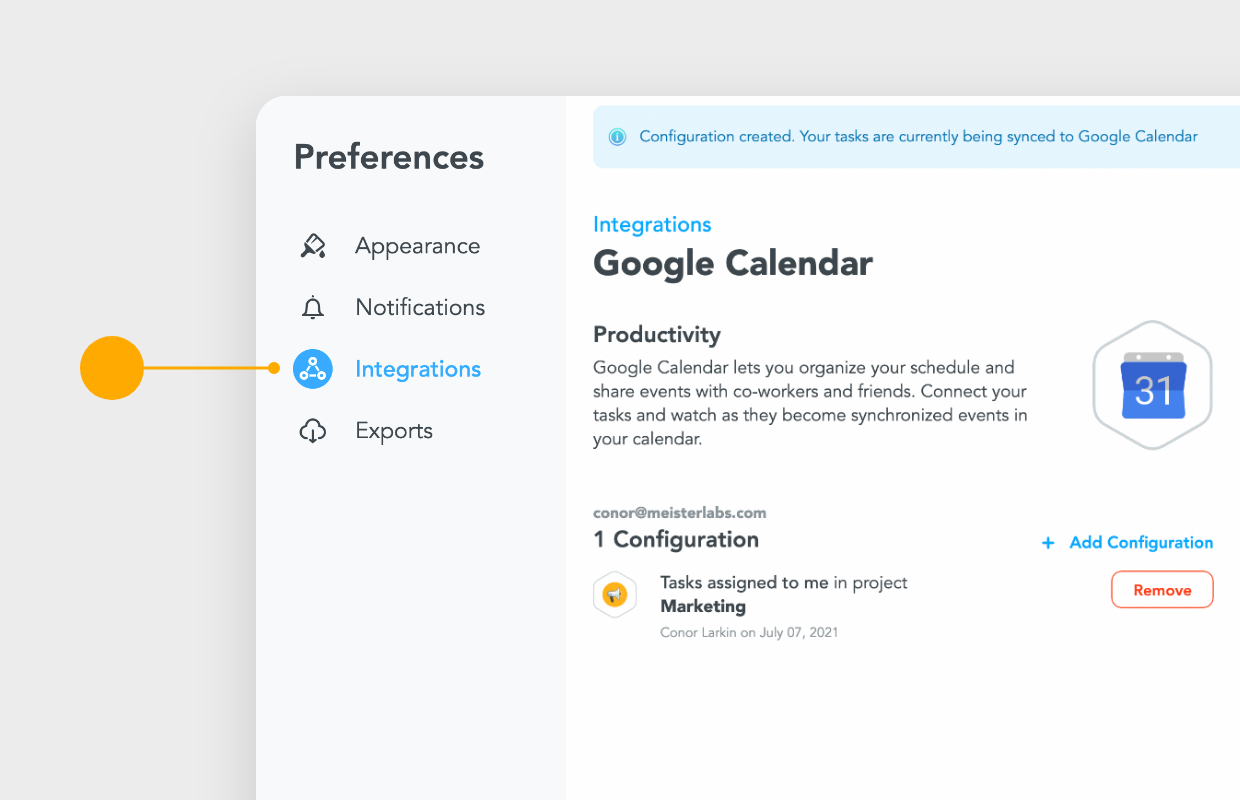 Important
Most changes made to Google Calendar Events will NOT be synced back to MeisterTask. You can change the the task name and due date in Google Calendar, but creating or deleting a task in your Calendar will NOT affect your MeisterTask projects.
---
Enable Google Calendar Integration
You can enable Google Calendar Integration from the Integrations section of the accounts page.
Click your Avatar in the top-right corner of your screen.
Select Preferences from the drop-down menu.
Select Integrations on the left sidebar.
Click the Google Calendar Icon.
Click Authorize Google Calendar and follow the instructions within your Google account to complete the authorization process.


To remove the Google Calendar integration, simply follow the link here.
---
Choose Which Tasks and Projects to Synchronize
Once Google Calendar Integration has been enabled, you can select which tasks and projects you'd like to sync with your Calendar by adding "Configurations."
Configurations
Configurations set certain tasks or projects to be synchronized with Google Calendar. A configuration can:
Sync your calendar with all tasks in a specific project
Sync your calendar with all tasks assigned to you in a specific project
Sync your calendar to all tasks assigned to you in all projects
You can create a configuration directly from the Google Calendar Integrations page:
Navigate to the Google Calendar Integrations page (see above) and select "Add Configuration."




From the two drop-down menus, you can select the project you'd like to sync to your calendar along with type of task (all/assigned to me) you'd like to sync.
Once you've finished, select Add Configuration.




Once done, you'll see a list of all active configurations in the Google Calendar integrations page:


---
Use Zapier to Connect Your Google Calendar
This option is more limited than the Pro or Business Integration described above.
MeisterTask Basic users have the option of using Zapier to connect MeisterTask to their Google Calendar. To get started, create an account with Zapier and check out the most popular zap templates here.
Alternatively, you can visit Zapier and create your own Zaps from scratch, using whatever triggers, actions and filters you want:
---
Still Scrolling?
Ask your question in the Meister Community!