This feature is available to all users.
Only Pro and Business users can upload a custom background image.

You can personalize the appearance of your MeisterTask Dashboard and Projects by customizing backgrounds, changing section sizes and adjusting how much information is displayed in task tiles.
---
Customize General Appearance Settings
Change your General Appearance Settings to customize MeisterTask's interface and adjust how much information is displayed in your projects. To Access General Appearance Settings:
Click on your User Avatar in the top-right corner of the screen.
Select Preferences.
Ensure that Appearance is selected in the left sidebar.
Select your preferences. These will be applied to all of your projects.


Adjusting for Smaller and Larger Screens
By adjusting how much information is shown on your task tiles, you can create an appearance suited to larger or smaller workspaces. If space is an issue, you can also set your section width to "small."
---
Customize your Project Background
You can customize your project background in four different ways:
Select a solid background color
Select a rainbow background which extends section colors
Select a stock photo from the Meister Library
Upload a custom photo (paid users only)
To customize your background:
Click the project name at the top of your project board.
Select Change Background.
Select the Background you'd like to use or upload a custom photo.



---
Customize your Dashboard Background
To customize the background of your Dashboard:
Open your Dashboard.
Click on Customize at the top of the screen.
Choose a background from the options available (paid users can also upload a custom image).




---
Show/Hide Elements on your Dashboard
Your Dashboard can be configured to show three elements:
Notifications
My Tasks

Time Tracking Data
To show or hide these elements, click their icons in the top-right corner of the dashboard.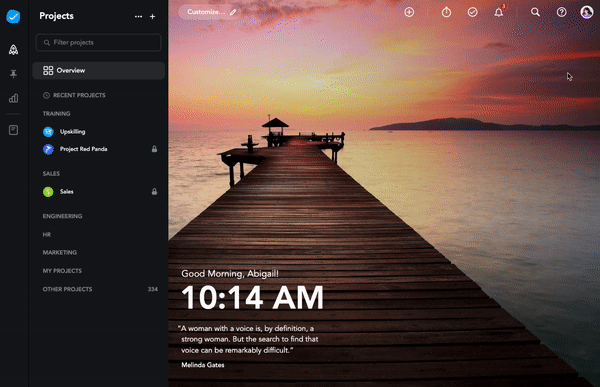 ---
Still Scrolling?
Ask your question in the Meister Community!