This feature is available to all users

Add Tags to label your tasks and bring more structure to your project boards. Tags are prominently displayed on each task tile and offer an additional way to organize, filter, and visualize your project.
---
What Are Tags?
Tags are color-coded labels which can be used to categorize and organize tasks within your project.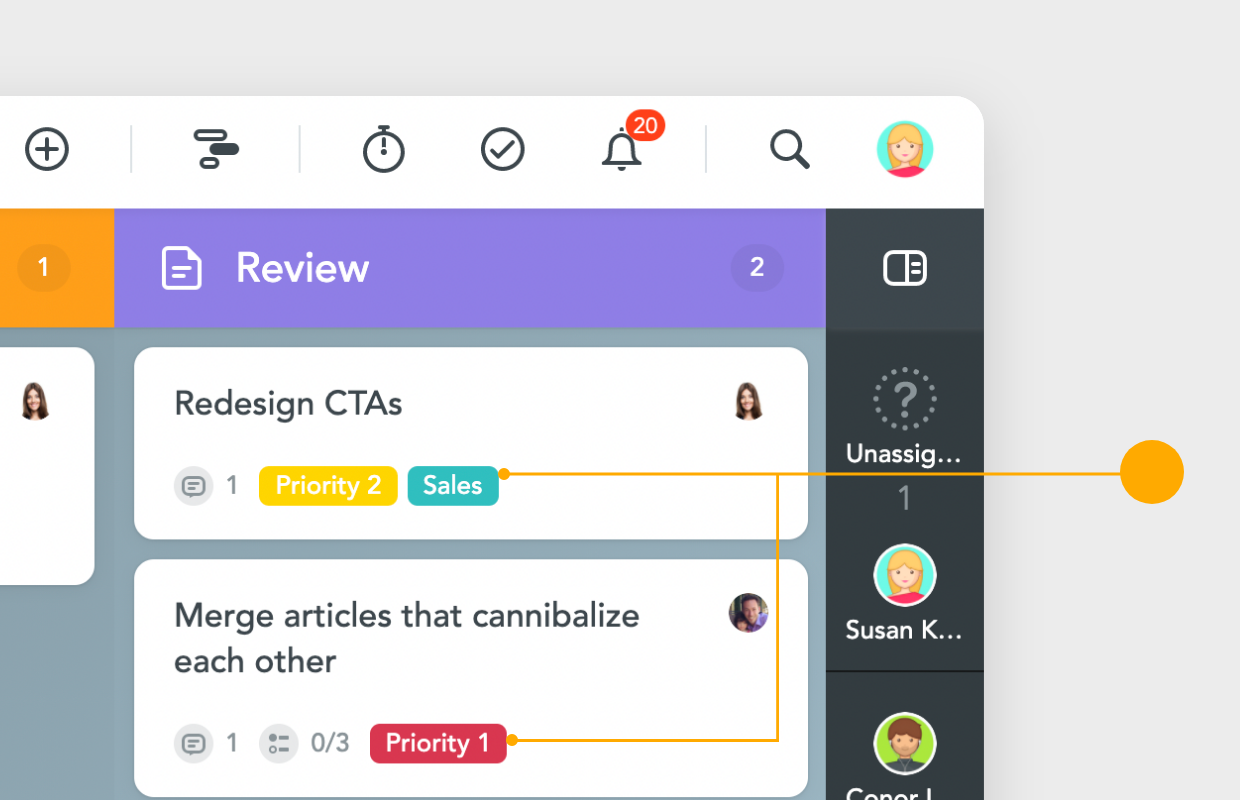 Once you've added tags to your project, you can organize and sort tasks based on your tags:
Filter your project to only show certain tags
Generate a Report on specific tags
Search for certain tags
Tags are completely customizable and can be tailor-made to suit your organizational needs. Create tags to designate priorities, topics, project phases, teams or any other variable. Be sure to choose a color appropriate to your tag. Don't be afraid to get creative!


Tip:
Check out these tag examples - each line represents a combination of tags that could be used for a project:


High priority - Low priority - Pipeline
Feature - Bug - Design
Approved - For review - On hold
Research - Writing - Lab - Exam preparation
---
Create Tags in Your Project
Before you can add tags to a task, you'll need to create tags for your project.
Click on any task to open the task window.
Click the Tags widget on the right side of the task window.
Click Manage.
Click + Add Tag and enter a name for your new tag.




Hover your mouse over added tags and select a color from the options which appear. Click X to delete a tag:




Tip
You can also manage your Tags from the project settings Menu. Simply click the project name at the top of your project board, select Project settings and then navigate to the Tags tab.
---
Add Tags to Your Tasks
You can add and remove tags by clicking the tags-widget in the task window:
Open the task to which you'd like to add a tag.
Click the Tags widget on the right side of the task window.
Select the Tags you'd like to add from the drop-down menu. A check mark will appear next the tags you've added.
Click an added tag a second time to remove the tag.




Tags not appearing on task tiles
You can adjust whether tags are displayed on individual task tiles from the preferences page. Click your user avatar in the top-right corner of MeisterTask and select Preferences -> Appearance.
---
Still Scrolling?
Ask your question in the Meister Community!