MindMeister is an online mind mapping tool developed by the same company as MeisterTask.
As a MeisterTask user, you are able to login to MindMeister with your existing user name / email address and password. Once you're logged in, you can use MindMeister to create mind maps with your team, to brainstorm ideas, visually plan projects, outline strategies and much more.
Each mind map can be connected with a project board in MeisterTask, and each topic (or bubble) in such a mind map can then be exported to the project, where it is automatically turned into a fully-featured task.
This is a great workflow that helps you turn your ideas into action at the click of a button.
To see how it works, please take a look at this short demo video below:
Tasks also stay synchronized between MindMeister and MeisterTask. That means, once you've connected a mind map with a project, all tasks that originated in the mind map are also updated there when edited in MeisterTask.
List of properties that are synchronized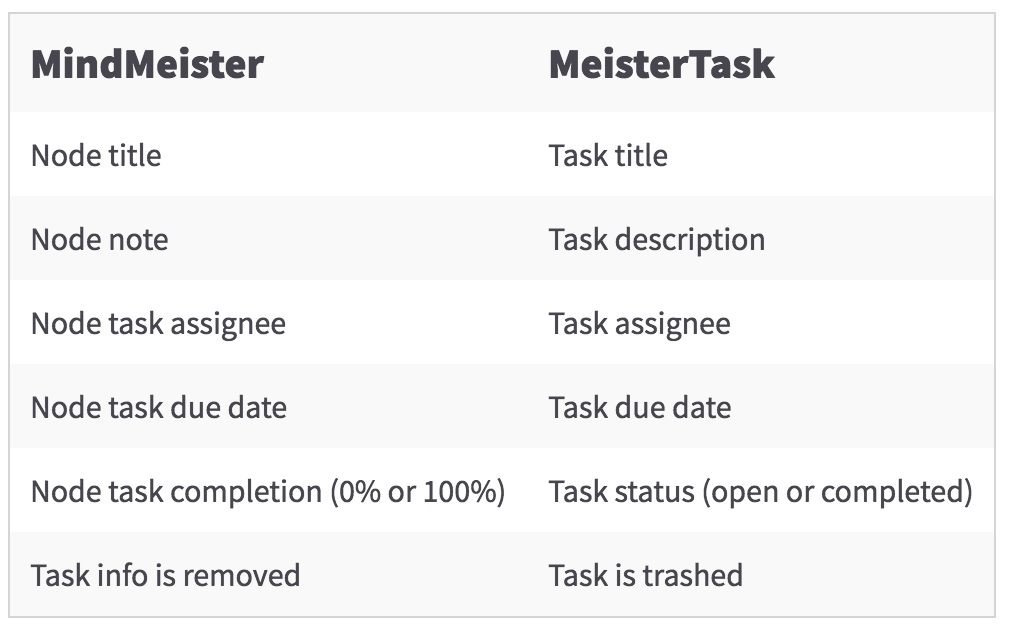 Additionally, links added to a topic in a mind map are added as the last line in the task description in MeisterTask, but – at the moment – they are not updated in MindMeister's link widget when changed in MeisterTask.
Note
If a user is assigned a task in the map, he is also automatically invited to the MeisterTask project that is connected to the map. Any users that already have tasks assigned are also invited to any new projects that are connected to the map. Users that are part of the MindMap but don't have tasks assigned in the MindMap will not be invited to the connected MeisterTask project. A best practice is to connect one map to one project.