This feature is only available to Pro and Business users.
Installing the MeisterTask App in ZenDesk requires Admin Privileges.

MeisterTask's Zendesk integration allows you and your support team to create tasks directly from Zendesk tickets. Once created, both task and ticket will be synchronized: all changes made to one will be immediately reflected in the other.
---
Set Up the ZenDesk Integration
Installing the MeisterTask App in ZenDesk requires Admin Privileges.
To set the MeisterTask ZenDesk integration:


Click this link to navigate to MeisterTask App in the ZenDesk Marketplace.
Click Install.
Follow the steps which appear in the ZenDesk Installation Wizard to complete your installation.
Open ZenDesk and log in with your MeisterTask credentials.
Click Authorize MeisterTask. You will be redirected to the MeisterTask App to complete the authorization process.
The ZenDesk Integration is now successfully installed. Be sure to enable the apps sidebar in ZenDesk to be able to access the MeisterTask widget.


---
Create a Task from a ZenDesk Ticket
Once the ZenDesk integration has been successfully installed, you can use the MeisterTask widget while viewing a ticket in ZenDesk to quickly create a task in MeisterTask. To do this:
Open a ticket in ZenDesk.
Click the Apps button in the top-right corner of the ZenDesk interface to open the apps sidebar.
Find the MeisterTask Widget your app sidebar and select a Project and Section for your new task.
Click Create Task.
In the next window, choose a name, description and assignee for your new task.



Add Attachments

If your ZenDesk ticket includes an attachment, you can click the paperclip icon to add this attachment to your new task.

Click Create Task.
Click Submit as open in ZenDesk.




Important
Be sure to click Submit as open (or any other ticket action) after creating the task. Otherwise, your new task will not be saved in your ZenDesk ticket.
---
Quickly Navigate Between MeisterTask and ZenDesk
Once a task is connected with a ZenDesk ticket, you can quickly navigate between the two by clicking the Integrations widget in the task window: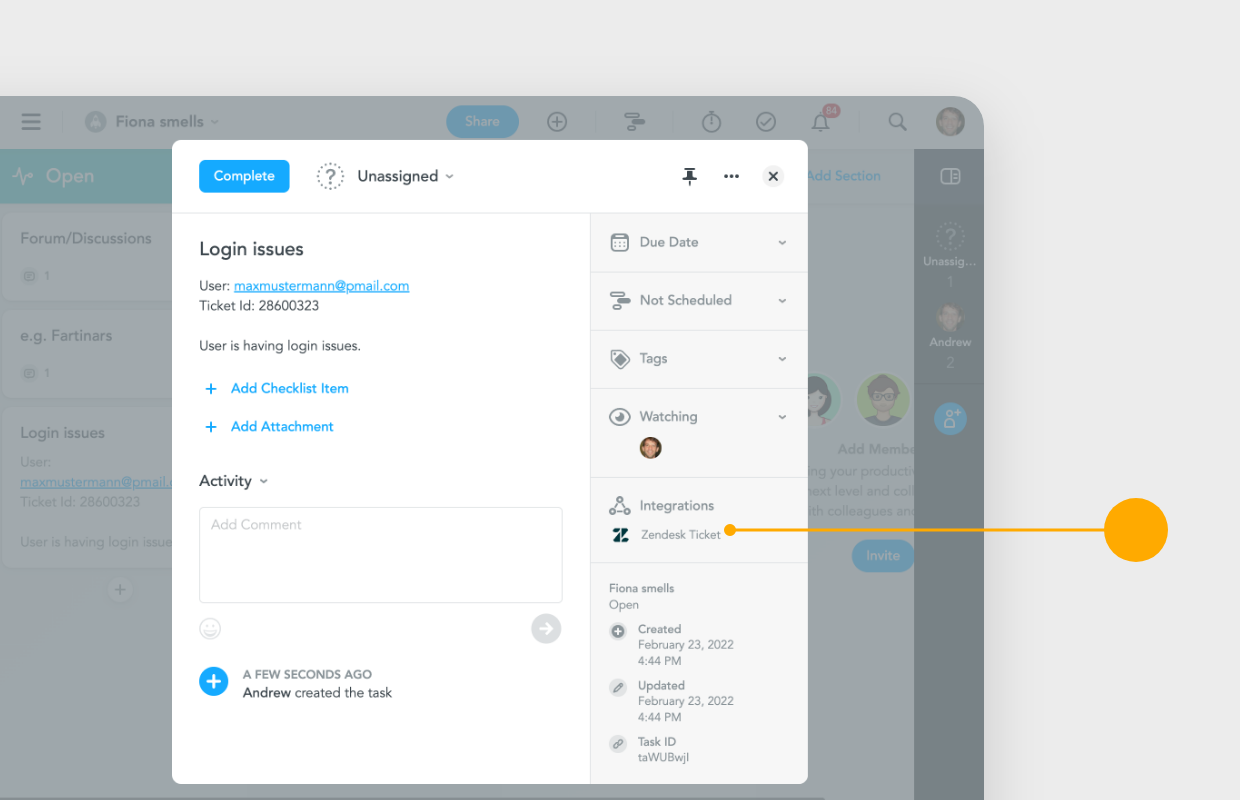 ---
Still Scrolling?
Ask your question in the Meister Community!