This feature is available to Business users

By assigning different roles and permissions to your project collaborators, you can define and limit what they can view, access and edit in your project.
---
What Are Roles and Permissions?
You can assign different roles and permissions to other users who have been invited to collaborate on your project, allowing you to define and/or restrict their access and editing privileges.
There are currently five roles which can be assigned to project collaborators, each with their own set of access and editing privileges:



By setting appropriate roles and permissions for your MeisterTask projects, you can collaborate effectively and ensure that sensitive data is kept safe and secure.


Roles and permissions are assigned on a project-by-project basis.
If you are the administrator of one project, this does not automatically make you the administrator of other projects created by your team.
---
Enable/Disable Roles and Permissions
Before you can use roles and permissions, you'll need to enable them in the power-ups tab.
Click the project name at the top of your project board, then select Project settings.
Navigate to the Power-Ups tab.
Click the toggle switch to enable or disable Roles and Permissions.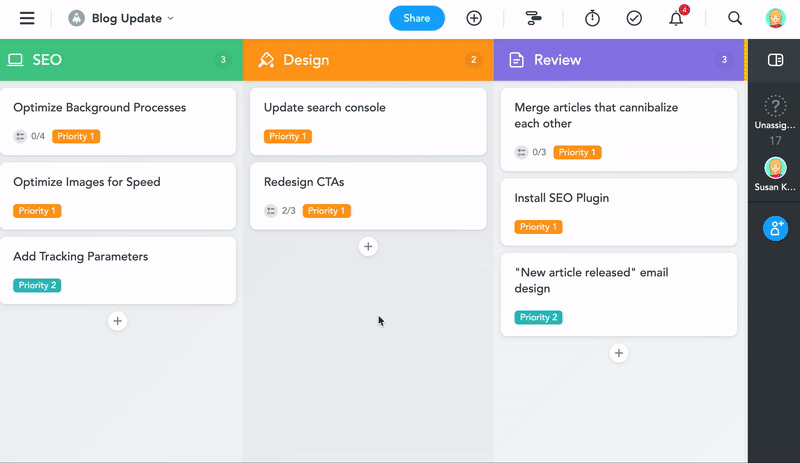 ---
Change Project Members' Roles and Permissions
Project administrators can change collaborators' roles and permissions from the project settings window. To do this:
Click the project name at the top of your project board.
Select Project settings.
Click the Members tab.
Scroll through your list of project collaborators to find the user whose role you'd like to change.
Click the small arrow next to their current role.
Select the users' new role from the drop-down menu.




User Group Permissions
Roles and permissions for user groups can be modified in the project members tab, just like with any other user.

If a user has been added to a project both individually and as part of a user group, the permissions assigned to them individually will trump those assigned to their group.

If a user is part of more than one group in a project, and if these groups have been assigned different permissions levels, the user will be granted the higher permissions level.
---
Roles Available in MeisterTask
The following five roles are currently available:
Project Administrator:
Project Administrators have full control over the project. They can modify tasks, add/remove collaborators and change all project properties (sections, automations, integrations, etc.).
Note:
Project administrators are NOT team administrators. To learn more about creating and managing a MeisterTask Team, visit our dedicated article here.
Project Member:
Members can modify tasks in the project (create, edit, assign, complete, archive, trash etc.) but cannot change any project settings.
Guest:
Project Guests can only access and edit tasks which have been assigned to them or on which they have been added as watchers. Assign guest roles to work with external collaborators while protecting sensitive project data. For more information, view our dedicated article here.
Commenter:
Commenters can view projects and comment on tasks, but cannot modify either in any way. When a commenter comments on a task, they are automatically added as a watcher and are subsequently notified of changes made to the task.
Viewer/Read-only
Individuals with read-only privileges can open a project and view all tasks individually, but they cannot edit the project or its tasks in any way.
---
Still Scrolling?
Ask your question in the Meister Community!